Judge Rules Louisiana Woman Can Design Christmas Lights To Flip Off Neighbors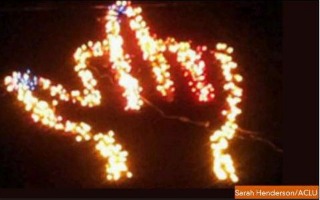 A district court judge rule this week that a Louisiana woman could hang her Christmas lights in the shape of a middle finger, as a nasty holiday "greeting" to her neighbors. Police initially threatened to arrest Sarah Childs for her illuminated display, but with the help of the ACLU, Child won her suit against the city.
Childs was in the middle of an argument with her neighbors last month when she hung her Christmas decorations, so she decided to use the opportunity to send a message. The neighbors in Denham Springs called in a complaint and police told her she could be fined. Childs removed the lights temporarily but put them back up, after which she was threatened with arrest. Local police told her she was violating the city's "obscenity statute," but as it turns out, the city doesn't have an obscenity statute.
After she contacted the local ACLU for help with a lawsuit, the city officers issued her two unrelated tickets that attorneys call a "collateral attack": one for obstructing the flow of traffic as she was walking down the street and another for disturbing the peace while singing a song about her fight with neighbors in her driveway.
Eventually, the lawsuit was decided in her favor. Judge James Brady issued an order temporarily barring city officials from interfering with the holiday display, citing a violation of Childs' right to free speech and due process. A full hearing is scheduled for after the holiday season, on January 7 in Baton Rouge.
For now, it seems Childs' neighbors must accept her version of holiday "spirit."
—
>> Follow Anjali Sareen (@AnjaliSareen) On Twitter
Have a tip we should know? tips@mediaite.com