Kathy Griffin: If I Curse On New Year's Eve CNN Will Immediately Yank Me Off Live TV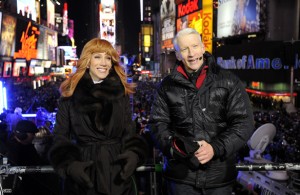 Kathy Griffin is back co-hosting CNN's New Year's Eve special with Anderson Cooper, and if her recent appearance on Howard Stern's radio show is any indication, CNN might have a lot to fear. For the past two years, Stern accurately describes the "holiday tradition" of Griffin appearing on the CNN telecast, blurting out an inappropriate expletive, CNN apologizing and subsequently banning Griffin from the network, and then CNN bringing Griffin back the next year as if nothing ever happened. Griffin revealed however, that this year there is one intriguing difference.
When prompted by Stern whether CNN makes her promise not to use the word "f*ck," Griffin revealed, "no it's worse this time. This time I have in my contract that I can't say f*ck. And this time they even said if I say f*ck they're going to pull me from the air." The prospect of Griffin being dragged off the set on live television had Stern salivating as he begged Griffin to promise she will curse again this year.
Given that Griffin was asked to host the show only "a week ago" after she jokingly says Snooki and other celebrities were too busy, and given that in the past she also hoped for a statement of support from CNN for her ratings-generating free expression rather than a pink slip, it seems a potential lack of respect between CNN and Griffin could set the stage for another must-see New Year's eve bombshell.
Although one person Griffin clearly respects a lot is Cooper, as she gets uncharacteristically flustered when Stern asks "you know this Anderson Cooper is such a great guy, you gotta find a great girl for him, when is he going to get married?" Cooper's sexuality is often a taboo subject for most media personalities and even the always outrageous Griffin is too hesitant to go there, saying she only knows he doesn't share a bed with her when the show is over. Stern wonders why Cooper is not more public about whether he is gay, but Griffin thinks the "most trusted name in news" (Cooper, according to her, not CNN) is too important of a news figure for her to be concerned about his sexuality.
Stern accurately reflects Griffin's funny and surprising relationship with CNN from her perspective, "you fired me, you humiliated me in the paper, ok when do I have to [show up to host the show]." Given CNN's consistently sagging ratings, it doesn't seem that surprising that the Griffin holiday tradition might continue for many years to come.
Listen to the NSFW anything-goes clip below filled with digs at New Year's Ever competitor Ryan Seacrest and a stroke battle between Dick Clark and Kirk Douglas from The Howard Stern Show below:

Have a tip we should know? tips@mediaite.com