Keene Pumpkin Festival Coordinator Confronts TV Reporter, Demands He 'Pull the Plug'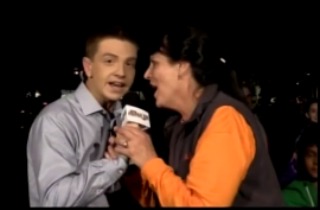 Social media has lit up over news of riots last night at a pumpkin festival in Keene, N.H., that not only required police, tear gas, and pepper spray, but also a response from the governor. In addition to the madness, a TV reporter got caught in a confrontation with the festival's coordinator.
Jared Goodell, a reporter for Channel 8 in Keene, was in the middle of a live shot when Ruth Sterling appeared in the shot to criticize Goodell's coverage of the riots.
"She's not letting me do my job and to report to you," Goodell said. "She would not like me to tell you what is going on at Keene State College."
"Are you a Free Stater or something?" Sterling interjected as she tried multiple times to grab Goodell's microphone from him. (The Free State Project is a libertarian activism group based largely out of Keene.)
Sterling then tried to assure viewers that the festival is safe and family-friendly despite the rioting that occurred on the outskirts, and threatened to "pull the plug" on Goodell's live shot if he continues to "incite" the riots and "self-promote."
"You heard it here first, everybody," Goodell responded, "When you report the news, when you report the reality, the people in charge want to shut you down. This is against freedom of the press, folks."
Watch the argument below, via YouTube:
[h/t Ben Swann]
[Image via screengrab]
— —
>>Follow Andrew Desiderio (@forza_desiderio) on Twitter
[Note: Mediaite intern Andrew Desiderio is a student at The George Washington University.]
Have a tip we should know? tips@mediaite.com