Kevin Hart and Wife Eniko Parrish Criticized For Son's 'Offensive' Cowboys and Indians Themed Birthday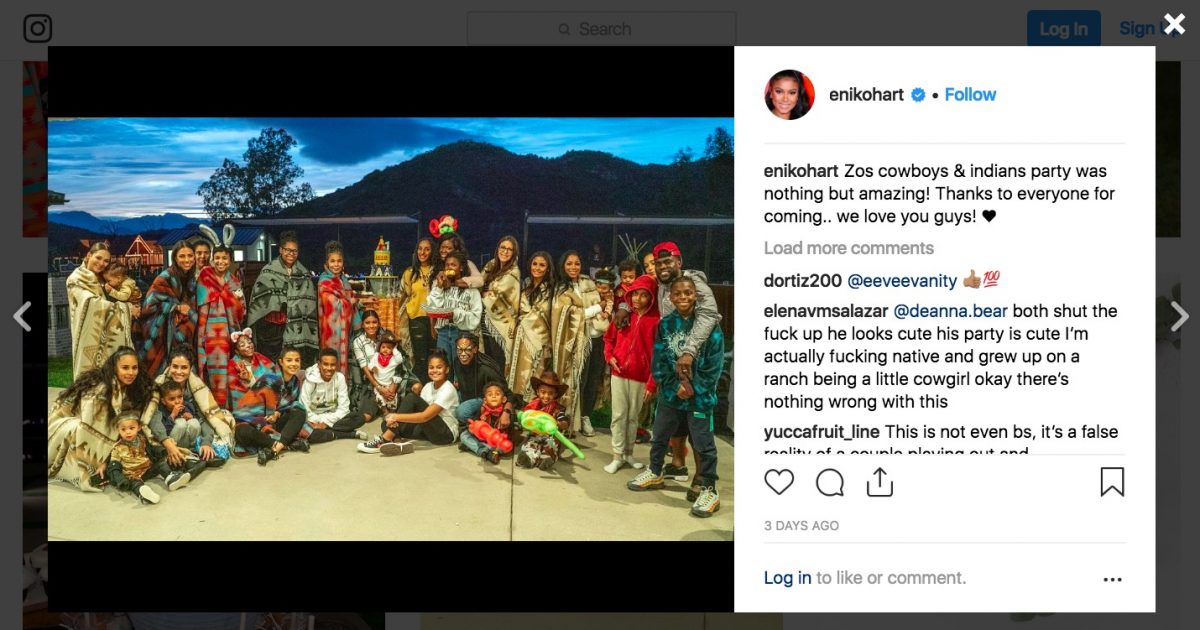 Star comedian Kevin Hart and his model wife Eniko Parrish were hit with social media backlash after sharing pictures of their son's "offensive" cowboys and Indians themed birthday party.
Parrish, who was celebrating her son Kenzo's first birthday, posted several photos from the night of celebration on her Instagram page, writing in one caption, "Zos cowboys & indians party was nothing but amazing! Thanks to everyone for coming.. we love you guys."
View this post on Instagram
Critics began attacking the posts for being culturally insensitive soon after it was shared.
"This party theme makes me sad.. Maybe you didn't realize it's offensive, but it really, really is," wrote one commenter on Parrish's photo of her and friends gathered in Native-American tribal apparel.
Another poster claimed intersectional friendly fire: "Imagine being so woefully out of touch, that one marginalized group appropriates another…"
In response to those defending the photo by saying injustices dealt to Native-Americans happened long ago — or, "Oh so sorry I didn't realize you were personally affected by things that happen [sic] over a 100 years ago," as one person wrote — another Instagram user said, "Trump literally just revoked a treaty and is taking land from a tribe- like right now. A simple google search will show you all the horrors that natives are literally still going through."
Additionally, numerous Twitter users used the site to condemn the celebrities' party
@enikohart @KevinHart4real Thought it was okay to throw a cowboys and "indians" party. This is offensive and just gross. The amount of people defending this saddens me. #NativeTwitter pic.twitter.com/SHvYjMfANk

— Azelia (@latinanative666) November 25, 2018
Changing the caption and deleting comments does not make your "cowboys and Indians" party ok. Shame on you @enikohart and @KevinHart4real Culture isn't a costume pic.twitter.com/E8AWnZ5j1B

— Carly (@CMeisters) November 22, 2018
Throwin a "Cowboys & Indians" birthday party on "Thanksgiving" celebrates genocide, white supremacy, & slavery. R those the things u @KevinHart4real & @enikohart represent & are teaching to your child? Would it be ok to throw a Master & slave birthday party? nope #nativetwitter pic.twitter.com/AnrZNUn3jn

— Mari posa (@solomamihood) November 25, 2018
It appears that Hart and Parrish have yet to respond to their critics.
[image via screengrab]
Have a tip we should know? tips@mediaite.com