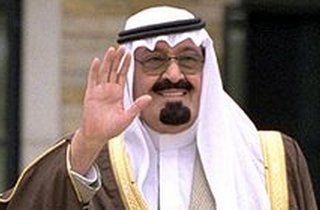 Saudi Arabia's King Abdullah bin Abdulaziz al Saud has died, according to an announcement on Saudi state TV. He was 90.
The news reportedly broke on Saudi state television. Crown Prince Salman bin Abdulaziz al Saud will assume the throne.
Despite confirmation from multiple news sources, Saudis are reportedly denying that King Abdullah has died (Update- 7:38 pm EST: they have since acknowledged that he has.)
You can watch CNN's report on the breaking news below:
Update- 8:45 pm EST: President Obama released this statement on the king's death:
It is with deep respect that I express my person condolences and the sympathies of the American people to the family of King Abdullah bin Abdelaziz and to the people of Saudi Arabia.

King Abdullah's life spanned from before the birth of modern Saudi Arabia through its emergence as a critical force within the global economy and a leader among Arab and Islamic nations. He took bold steps in advancing the Arab Peace Initiative, an endeavor that will outlive him as an enduring contribution to the search for peace in the region. At home, King Abdullah's vision was dedicated to the education of his people and to greater engagement with the world.

As our countries worked together to confront many challenges, I always valued King Abdullah's perspective and appreciated our genuine and warm friendship. As a leader, he was always candid and had the courage of his convictions. One of those convictions was his steadfast and passionate belief in the importance of the U.S.-Saudi relationship as a force for stability and security in the Middle East and beyond. The closeness and strength of the partnership between our two countries is part of King Abdullah's legacy.

May God grant him peace.
Have a tip we should know? tips@mediaite.com
Josh Feldman - Senior Editor