Kirsten Powers Blasts Obama's Libya Reaction: 'Apparently Our Foreign Policy Is Being Run By Dr. Phil'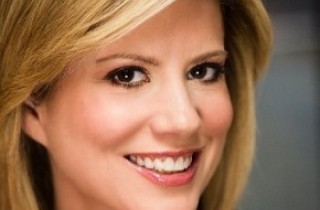 Fox News political analyst Kirsten Powers expressed disappointment in the Obama Administration's reaction to recent Middle East unrest, arguing the president and Secretary of State showed more condemnation for the filmmaker who created the movie that led to four American deaths in Libya than the behavior of those who committed such acts of violence.
In a Fox column titled, "President Obama, stop blaming the victim for Mideast violence," the Democrat attests that President Barack Obama and Hillary Clinton were more than eager to blast the man behind the film that caused such a stir but soft to merely "strongly condemn the outrageous attack" on Ambassador Christopher Stevens and others, continuing:
For Clinton it was that the US is heartbroken and she condemned "this senseless act of violence." But "disgusting and reprehensible" and "truly abhorrent " were reserved for an amateurish and silly film by someone nobody has ever heard of… [W]hat we shouldn't do is affirm the wrongheaded view that people should be protected from the free speech of others.
The bigger issue, Powers says, is our government's public reaction to such brutality, as their response could actually suggest to our opponents that we're weak and going to live in fear:
Worse, our leaders shouldn't let our enemies know that when they kill our people and attack our embassies that the US Government will act like a battered wife making excuses for her psychotic husband…Apparently our foreign policy is now being run by Dr. Phil. Someone needs to explain to the White House that our Constitution protects freedom of religion from government interference, not the protection from people who say mean, critical  or offensive things about one's religion.
Powers also mentions the infamous crude tweet comedian Bill Maher published about Tim Tebow after the quarterback threw an interception last year: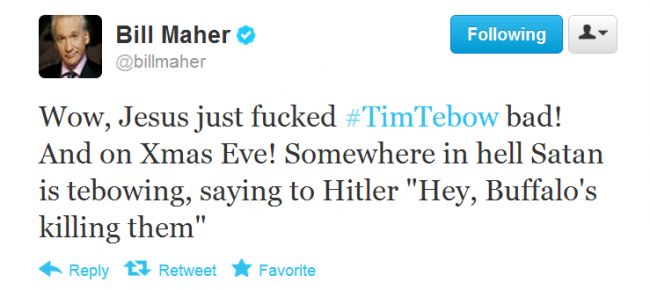 The Christmas Eve tweet ruffled some feathers, and Powers adds that the Obama administration would not try to be sensitive toward Christians if the religious group were to burn down Maher's home in response to the joke. There's a double standard, the Daily Beast columnist says, and the president isn't doing us any favors by insinuating that the cinematic production was totally at fault for recent events in Libya and Cairo.
Read the full column here.
— —
>> Follow Laura Donovan (@LauraDonovanUA) on Twitter
Have a tip we should know? [email protected]