Kobach Calls Reports That 40+ States Have Refused to Give Info to Voter Fraud Commission 'Fake News'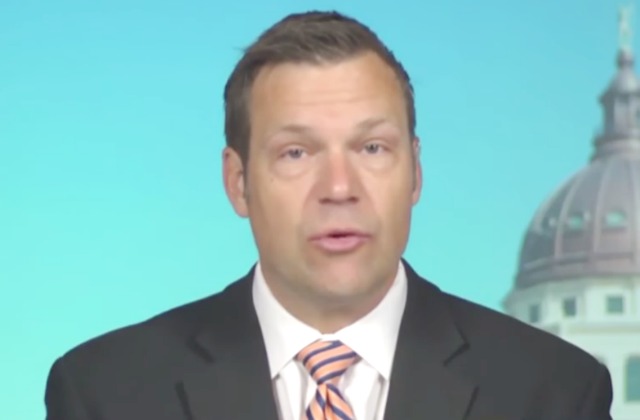 Kris Kobach released a statement today saying 36 states agree or are considering providing voter information despite "fake news" reports that 44 states have refused to provide the information.
"At present 20 states have agreed to provide the publicly available information requested by the commission and another 16 states are reviewing which information can be released under their state laws. In all, 36 states have either agreed or are considering participating with the Commission's work to ensure the integrity of the American electoral system," Kobach's statement said.
"While there are news reports that 44 states have 'refused' to provide voter information to the Commission, these reports are patently false, more 'fake news,'" he continued. "At present only 14 states and the District of Columbia have refused the Commission's request for publicly available voter information."
Statement from Kris Kobach responding to uproar over election integrity commission request. 20 states have agreed to provide public info pic.twitter.com/OQisycpbVT

— Jeremy Diamond (@JDiamond1) July 5, 2017
The Kansas Secretary of State requested the information after President Trump created the Presidential Advisory Commission on Election Integrity in May. Kobach, who is the vice chairman of the advisory commission, recently sent a letter to all 50 states requesting all voter information data. The data includes names, addresses, birth dates, party affiliation, felony convictions, military statuses, the last four digits of Social Security numbers and voting records dating back to 2006.
Major news organizations like CNN and NBC are saying as many as 44 states have refused to give up the information, which is exactly opposite of Kobach's statement.
Even Republican state officials have been pushing back on these requests.
The states that have published statements saying they won't give up the information include: California, Kentucky, Pennsylvania, Massachusetts, New York, Virginia, Delaware, Louisiana, Minnesota, Mississippi, Tennessee, and Wyoming.
Other states have agreed to give public information, but information like social security numbers, birthdays or driver's license numbers are against the law to give out.
Have a tip we should know? tips@mediaite.com