Koch Industries Slams Obama Campaign Letter: President Wants To 'Chill Free Speech And Squelch Dissent'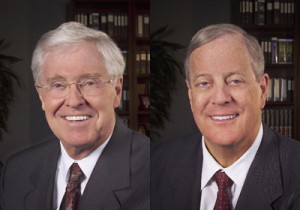 The Koch brothers are not happy about a fundraising letter sent out by President Obama's re-election campaign. The letter tried to link Charles and David Koch's business activity with Mitt Romney. In response, they've fired back in their own open letter, calling the Obama email "irresponsible and misleading."
The Obama email, from campaign manager Jim Messina, said:
In just about 24 hours, Mitt Romney is headed to a hotel ballroom to give a speech sponsored by Americans for Prosperity, a front group founded and funded by the Koch brothers.
[…]
Those are the same Koch brothers whose business model is to make millions by jacking up prices at the pump, and who have bankrolled Tea Party extremism and committed $200 million to try to destroy President Obama before Election Day.
Philip Ellender, president of government and public affairs for Koch Industries, posted a letter in reply. He wrote:
The implication in that sort of attack is obvious: dare to criticize the President's policies and you will be singled out and personally maligned by the President and his campaign in an effort to chill free speech and squelch dissent.
[…]
It is understandable that the President and his campaign may be 'tired of hearing' that many Americans would rather not see the president re-elected. However, the inference is that you would prefer that citizens who disagree with the President and his policies refrain from voicing their own viewpoint. Clearly, that's not the way a free society should operate.
It added that the Kochs own no gas stations — and that the aspect of their business that deals with oil/gas "actually lowers the price of gasoline by increasing supply."
(H/T: Politico)
Have a tip we should know? tips@mediaite.com