L'Oreal Kills World Cup Fan's Modeling Contract After Joke About Hunting Americans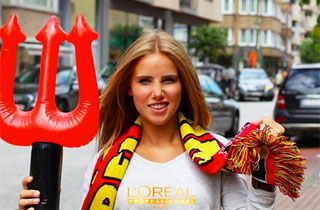 Well, that was fast: less than three days after she won a modeling contract with L'Oreal due to her photos going viral at the World Cup, Belgian fan Axelle Despiegelaere lost it when she uploaded a photo of herself with a gun and a dead gazelle, with a caption joking about hunting Americans.
But to really appreciate how fast Despiegelaere's fall happened, we must look at how quickly the 17-year-old rose: Despiegelaere's photo went viral on June 22nd, when her photo was snapped during the Belgium vs. Russia group match. Upon her return to Belgium, she set up a fan page for herself which quickly racked up hundreds of thousands of fans, and on July 8th, she announced that she'd signed with L'Oreal as a model. (It was quickly followed with a video of her getting all L'Oreal'd.)
And then someone realized that on July 1st, the day that the US played Belgium, she'd uploaded this:
@Loreal @LOrealParisUSA what do you think of this post by your new model Axelle Despiegelaere? pic.twitter.com/Xn4lZrckLs

— Aly Weisman (@AlyWeisman) July 10, 2014
BuzzFeed reports that Despiegelaere attempted to backtrack, posting Facebook comments saying that she was only joking, before deleting her entire page altogether. L'Oreal soon told them that she was not, nor had she ever been, one of the company's official spokespeople: "L'Oréal Professionnel Belgium collaborated with her on an ad hoc basis to produce a video for social media use in Belgium. This has now been produced."
That was approximately 19 days of Despiegelaere being famous.
[BuzzFeed]
[Image via Axelle Despiegelaere/Facebook]
—
>> Follow Tina Nguyen (@Tina_Nguyen) on Twitter
Have a tip we should know? [email protected]