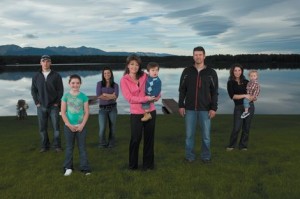 In the wake of last week's Wonkette/Trig Palin controversy, people keep sending me updates, related stories, and new slights against the special needs population, the latest of these being a Los Angeles Times editorial that calls Sarah Palin a "special-needs case."
This is as good a time as any to clarify a few things about the issue of special needs-bashing.
First, to the LAT piece, by Meghan Daum. Here's the offending section:
Even (Rebecca) Traister, an unabashed liberal and feminist who writes for the left-leaning online magazine Salon, is evidence of the way thoughtful writers treat Palin as a special-needs case.
This is the kind of offhanded reference to people with special needs that crops up from time to time, even in polite company. Daum probably thinks she's insulting Sarah Palin here, but what she's really doing is using special needs people as insults themselves. I know, I shouldn't have to explain this, but there it is.
It's similar to the wisecrack that President Obama made (then apologized for) early in his presidency, when he tried to be self-effacing about his bowling skills. He told Jay Leno that he had bowled a 129, and that "It's like – it was like Special Olympics, or something."
Ironically, while being the first to report on those remarks, then-Countdown host Keith Olbermann also made Tourette Syndrome jokes elsewhere in the broadcast.
In a similarly thoughtless vein, Olbermann used a "short bus" graphic to mock the McCain campaign during the 2008 presidential race (when I was in school, we derisively called this bus the "tart cart"). I called and emailed the show, and while they didn't apologize, they stopped using the graphic, as best I can recall.
Then White House Chief of Staff Rahm Emanuel touched off a firestorm with his usage of the term "retard" in a private conversation, which drew a demand from Sarah Palin that Emanuel be fired. Emanuel also apologized.
Rush Limbaugh then unapologetically flouted the term, and Palin disappointingly excused the radio host on the same false basis that Wonkette initially rested: it was all satire. To paraphrase Lloyd Bentsen, I know satire, and this was no satire.
Then, there was this Wonkette business.
In each of these cases, there were varying degrees of severity, both in the offenses and the attendant reactions. As someone who takes this issue very personally, there were times when I felt the manipulation of outrage over these incidents was as offensive as the incidents themselves. Did all of the people who gave Obama and Emanuel grief over their remarks really care about people with special needs, or were they just trying to score political points?
Was the outrage over Palin's double-standard motivated by genuine concern for this population, or was it simply a tool to paint her as a hypocrite?
Keith Olbermann was definitely using special needs kids as a weapon of public shame when he made out a check to the Special Olympics, donating $100.00 for every lie Palin told on the campaign trail, while falsely claiming she had cut Alaska's Special Olympic budget. I've never seen him mention the charity, before or since, and the only reason anyone was looking at Alaska's Special Olympics budget was in hopes of finding a way to exploit her Down Syndrome baby.
Now, the Wonkette post was truly outrageous, but in the rest of these instances, and even in Wonkette's case, to some degree, I think people need to take it down a notch or two. Yes, these were all wrong things to do, but the "I never made a retard/special ed/Special Olympics joke" club is pretty damn tiny. There's a learning curve on this for just about everyone.
Apologies are nice, but even nicer when followed by going and sinning no more. Wonkette's Ken Layne and Jack Stuef were never going to have that "Afterschool Special" moment where they invite the different kid to come play kickball, but if they lay off the special needs jokes, that's good enough for me.
Everyone has to make up their own minds on this, but I really favor Special Olympics Chairman Tim Shriver's approach. During a Colbert Report interview a few weeks ago, Stephen Colbert asked him if abolishing the r-word was "thought policing," and Shriver said "I want to be a teacher, not a policeman."
"You're allowed to be humiliating, degrading and hurtful," Shriver told Colbert, "and I'm allowed to petition you to at least recognize what you say and be aware of the option you have to stop."
These things do need to be called out, but in a way that engenders goodwill, not resentment. That's easier said than done sometimes.
Have a tip we should know? tips@mediaite.com