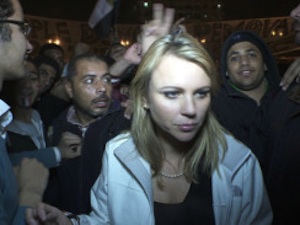 As CBS correspondent Lara Logan continues to bravely recover, still enduring massive amounts of physical and psychological trauma after being sexually assaulted and beaten in Egypt, a "journalist" named Témoris Grecko is now suggesting that CBS may have altered or outright fabricated details of her attack in Tahrir Square. That's right, he is speculating that CBS invented the assault because "this account does not fit with what I, and others, witnessed."
The blog post is titled "Rape? Women? Stripped? What really happened to Lara Logan?" and it was picked up by the news industry blog Newsblues (subscription needed) which described Grecko as a "well known travel journalist and photographer." Grecko claims to have witnessed Logan in a white coat (which can be seen in the widely-circulated image of Logan on the night she was attacked, pictured here) being dragged by several men across the square. He describes her not as fearful or panicked, but "as trying to control the situation." The group dragging her were yelling "Agent! Agent!", he claimed – a marked departure from most other reports that Logan's assailants were screaming more loaded terms – specifically "Jew!" and "Israeli!" – presumably because of reports on state-run television claiming that foreign journalists were spies working for Israel.
While CBS noted that Logan was eventually rescued from her attackers "by a group of women and an estimated 20 Egyptian soldiers" (you can read CBS' full statement here.), Grecko quotes a Bostonian tourist, Benjamin Starr, who offers an entirely different account:
"I want to give her the benefit of the doubt, maybe something happened in another part of the square, but from what I saw, she was being taken by men to the soldiers, and her clothes were not torn off. There were no women, I didn't see a single woman in the crowd around her."
He wants to give her the benefit of what doubt? There is no doubt. It is a fact that Logan was hospitalized with severe injuries. Not a theory, not an allegation not a claim, but a fact. Because Grecko and Starr did not actually see the attack itself and other "activists" with whom Grecko claims to have spoken, did not witness it (or more likely don't want to believe it), he questions whether it was sexual in nature and whether it happened at all.
"When I read CBS's story and it's interpretation by other media outlets, I felt troubled. It seemed misleading," writes Grecko. While I am sorry that Mr. Grecko "felt troubled," I am far more troubled by the fact that he admits that he and his two friends eventually lost sight of her an into a crowd "50 or 100 people strong" and yet still decided to write this piece. This guy calls himself a journalist? He puts into question the CBS (and presumably Lara's) account because he was not able to see what happened after she was swept away by the crowd?
Grecko quotes Alshimaa Helmy, a "21 year old Egyptian biotechnology student and cyber-activist," who he says made this equally absurd and bold claim:
I think it is a big exaggeration. It couldn't happen. How can someone risk to rape a foreign woman in the most important square of Egypt, in front of tens of witnesses? If those were bad guys, what about all the good people who were celebrating? She doesn't deserve what happened to her, no one does, but if you are going to a revolution, you should protect yourself.
Ah yes, the familiar "my client would never have been so stupid as to". . . defense. In the hundreds of trials I have covered, particularly when the evidence is overwhelming, this is the all too common refrain. "You think my client would have been dumb enough" to…leave his blood…or wallet …or gun…or glove at the scene? Sadly, the answer is almost always a resounding yes. Of course, this 21 year old activist contradicts herself by blaming the victim for an attack that "couldn't happen" by saying that she should have protected herself.
Grecko writes that "a hot-headed public debate on Egyptians, Muslims and women, rages on sparked by what may or may not have happened to Lara Logan in Tahrir Square."
Alas, his true motive for penning this offensive nonsense becomes clear. More than facts, this "journalist" seems dismayed that the widely reported account portrays "Egyptian and Muslim men . . .as wild beasts and Islam as an inherently violent religion." That debate, Mr. Grecko, is for another time and place. Not at Lara Logan's expense. The second guessing and hectoring Logan has been subjected to in message boards (including this one) and on some blogs is shameful, but this piece is even more detestable because it purportedly comes from an "eyewitness" "journalist" who wants people to think that he actually saw the event, which, by his own admission, he did not.
While CBS has stated that Logan was not raped, sadly, this story fits all the cliches of the rape culture that discourages women from reporting rapes, and makes certain they will be disbelieved if they do. Murderers and rapists are presumed innocent, while sexual assault victims are often presumed liars.
Grecko's piece concludes by saying "this attack raises a lot of questions that need to be answered by CBS, or, better, by Logan herself." No. Lara Logan owes you no such thing. Lara should just focus on recovering from this assault so that maybe she can be back reporting on the most important stories of the day, that way we won't have to rely on charlatans like you to serve as our eyes and ears in the field.
Have a tip we should know? tips@mediaite.com