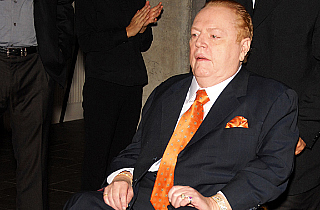 On Thursday morning, The Hollywood Reporter ran a guest column from Hustler founder Larry Flynt in which he asked that the State of Missouri not execute the man who confessed to having shot him 35 years ago, among a string of other racially-motivated acts of violence.
Flynt was shot in 1978 while standing outside a Georgia courthouse. Several years later, a white supremacist named Joseph Paul Franklin confessed to the shooting, claiming he was angry with Hustler;s publishing of an interracial sex scene. That confession came with a series of other admissions, including the bombing of several synagogues, the shooting of civil rights activist Vernon Jordan, Jr., and the killing of an interracial couple.
"In all the years since the shooting, I have never come face-to-face with Franklin," Flynt wrote this week. "I would love an hour in a room with him and a pair of wire-cutters and pliers, so I could inflict the same damage on him that he inflicted on me. But, I do not want to kill him, nor do I want to see him die."
According to Flynt, despite Franklin deserving to experience a great deal of pain, the death penalty will not do any good because "research has failed to provide a shred of valid scientific proof" that it acts as an effective crime deterrent.
Franklin was sentenced to death for the killings, and the Missouri Supreme Court recently scheduled his lethal injection for November 20th of this year. "I have every reason to be overjoyed with this decision, but I am not," Flynt concluded. "I have had many years in this wheelchair to think about this very topic. As I see it, the sole motivating factor behind the death penalty is vengeance, not justice, and I firmly believe that a government that forbids killing among its citizens should not be in the business of killing people itself."
Read the full column here.
[image via © Glenn Francis]
— —
>> Follow Andrew Kirell (@AndrewKirell) on Twitter
Have a tip we should know? tips@mediaite.com