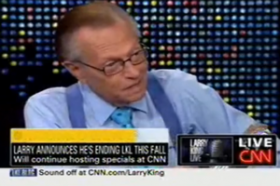 Larry King is ready to be a team player, even if he's not familiar with his likely replacement.
Forbes' Lacey Rose talked to King about Piers Morgan, Ryan Seacrest and more.
King tells Rose he's heard the reports Morgan is set to take over the 9pmET CNN show, and although Morgan has been on his show before, King 'doesn't know him.' But:
I'd assume I'd like him. I'll tell you this: I'll have him on my show before he starts. I would do an interview and promote him – I'm still with CNN. I don't want him to do badly. There are some people who would … but I want him to do well.
Rose also asked about King's top choice to take over his show hour, another reality TV star, Ryan Seacrest. King thinks Seacrest would be "immediately accepted" if he took over, despite potentially not having an interest in politics. King also throws out a couple other options – move Anderson Cooper to 9pmET or bring CBS' Katie Couric to the cable news network.
King's comments about Morgan signal it will be a smooth transition once the deal is secure. It will be important for CNN to honor King's legacy as he makes his exit, and his willingness to play ball with both his longtime network and the incoming anchor helps that happen easily.
Forbes also conducted an "exit interview" with King. Here's how he sees his future role:
Periodically come back much the way Tom Brokaw has done in recent years at NBC?

Yes. In fact, this deal and Brokaw's deal are almost identical. Brokaw does specials for NBC. He doesn't want to do commercials but he could. And he's free to make speeches and anything he wants — and occasionally make other appearances on NBC. I'm sure Tom doesn't like days when a big news story breaks and he's not on at 6:30 p.m. And for me, it's going to take some getting used to I'd imagine — and some understanding from friends, family, people around me. It's going to affect me.
He also talks about the competition ("fiercely soap-boxed and biased"), what he'll miss ("big news and interesting personalities") and what he won't ("I'm not going to miss the girl missing in Aruba").
—–
» Follow Steve Krakauer on Twitter
Have a tip we should know? tips@mediaite.com