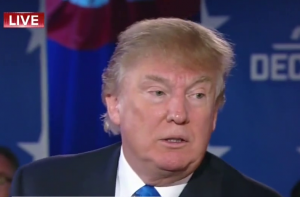 The Deport Racism PAC is offering a cash prize to any SNL audience member who calls out Donald Trump during his hosting gig on Saturday.
In a statement, the PAC said it "will pay $5,000 cash to anyone on the set of the show or in the studio audience" who is "heard saying 'Deport Racism' or 'Trump is a Racist' during the live broadcast."
"NBC has invited Donald Trump to be the host of Saturday Night Live on November 7th despite outcry from the Latino community and supporters of equality," the statement reads. "Giving Trump a platform on the hit comedy show sends the wrong message that his offensive and racist comments about Latinos and Mexicans are acceptable."
In order to collect the money, a willing protester must be "heard clearly on-air" and "identified by name in media" reports as a Deport Racism supporter. If multiple people meet the criteria, "the $5,000 offered will be divided equally among them."
"Let's show the world that attacking brown people is not the way to win the White House," the statement reads.
Deport Racism is the same PAC that released the profanity-laden ad Tuesday "Trashing Trump: Latino Kids Pound Racism Like A Piñata." In the video, self-proclaimed anchor babies — kids born in America to immigrant parents — hurl insults and obscenities at Trump, telling the Republican presidential candidate, in part, "I'm an American, born in the USA. This is my home. You can't take my rights away. If you don't like our Constitution and what it stands for, get the f*ck out of my country."
Watch the video above, via Deport Racism.
[h/t The Hill]
[Image via screengrab]
—
>> Follow Elizabeth Preza on Twitter (@lizacisms)
Have a tip we should know? tips@mediaite.com