#LaueringtheBar: Matt Lauer Takes Media Criticism Over Clinton-Trump Forum Moderation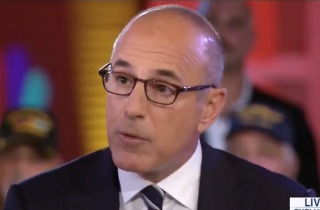 After last night's Commander-In-Chief forum, a significant deal of discussion appears to suggest that NBC's Matt Lauer didn't give viewers the preview they wanted for his upcoming moderation of the first 2016 presidential debate.
Lauer hosted both Donald Trump and Hillary Clinton last night, and media critics are having mixed feelings over how well Lauer handled the overall event. In terms of his discussion with Clinton, Lauer took a firm approach as he kept on pressing the former Secretary of State over the new details of her email scandal. Viewers noted that Lauer challenged her on her questionable justifications, but also constantly talked over and interrupted her answers. Other critics said the exchange didn't leave Clinton with enough time to address the military and national security topics at hand for the evening.
While the Today Show host managed to ask Trump several major questions about his controversial statements from the past, critics feel that he gave Trump too many open-ended softball questions, and did not adequately fact-check him. One particular instance occurred when Trump again claimed that he was always opposed to the Iraq War, and Lauer let it go without addressing the significant indications to the contrary.
After the event concluded, numerous media figures and publications expressed frustration with Lauer over the way in which the forum was handled. Several outlets have released pieces taking issue with the lack of push-back and fact-checking on Trump, and the conversation spilled out on Twitter before taking form in #LaueringtheBar.
"It's not a great idea, in general, for journalists to let politicians get away with bald-faced, on-camera lies": https://t.co/GVoLu6wIgw

— Ezra Klein (@ezraklein) September 8, 2016
Dear TV anchors. It's been 15 months. Change interview style for trump. He needs: Yes/no qs. Multiple specific follow ups on topic. Trivia.

— Tim Miller (@Timodc) September 8, 2016
Criticism of Lauer will morph into Dems trying to push debate moderators to 'fact-check.' Chris Wallace is right; not moderator's job.

— Byron York (@ByronYork) September 8, 2016
Basically universal condemnation from journalists for Lauer letting Trump get away with Iraq War comments: pic.twitter.com/S0O2BvepDr

— andrew kaczynski (@BuzzFeedAndrew) September 8, 2016
Maybe if Matt Lauer hadn't spent 13 minutes on emails there'd be more time for ISIS. https://t.co/etCoYOiL28

— Matthew Gertz (@MattGertz) September 8, 2016
Probably a good thing that @MLauer won't be a debate moderator.#NBCNewsForum

— Frank Luntz (@FrankLuntz) September 8, 2016
"Lauer's worst day on the air since Ann Curry tearfully signed off?" https://t.co/veAMhiXh4X

— Brian Stelter (@brianstelter) September 8, 2016
How can someone like @MLauer not set the record straight on Trump's bogus claim of being against the war in Iraq?

— Glenn Kessler (@GlennKesslerWP) September 8, 2016
If only Trump had attacked that Gold Star family in an email, then it would be newsworthy to Lauer. https://t.co/TYMMq3qqXQ

— Paul Begala (@PaulBegala) September 8, 2016
I think Matt Lauer @MLauer was trying desperately to impress others in the press to prove he's not just a morning show lightweight. Failed.

— Kurt Eichenwald (@kurteichenwald) September 8, 2016
I take no issue with asking Hillary tough questions, but with all of the global challenges, this is a waste of time. https://t.co/0Yc9IecCBo

— Guy Cecil (@guycecil) September 8, 2016
How does #Laueringthebar not ask Trump about terrible comments toward Ctp Khan's family, @HillaryClinton about CF's $$$ from Saudi Arabia

— Jordan (@JordanChariton) September 8, 2016
Matt Lauer's interviews of Clinton and Trump were a complete disgrace to journalism https://t.co/P3Xv8QbkpH

— Jonathan Chait (@jonathanchait) September 8, 2016
[Image via screengrab]
— —
>> Follow Ken Meyer (@KenMeyer91) on Twitter
Have a tip we should know? tips@mediaite.com