LAX Gunman's Manifesto Reportedly Used Homphobic Slur to Describe Fmr. DHS Head Napolitano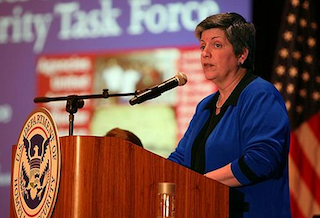 In a new post on the Southern Poverty Law Center's Hatewatch blog, editor-in-chief Mark Potok claims that LAX airport shooter Paul Anthony Ciancia's "manifesto" contained homphobic slurs against former Department of Homeland Security Secretary Janet Napolitano.
Potok quotes a "knowledgeable source with ranking law enforcement contacts" who said the one-page manifesto Ciancia carried with him when he entered Terminal 3 at Los Angeles International Airport and killed one TSA employee, referred to the former secretary as a "bull dyke" and included the phrase "FU Janet Napolitano."
Earlier, CNN reported that the materials Ciancia had on him made reference to the "New World Order" conspiracy theories, which warn against the existence of a secret authoritarian government. Arguing that these references align Ciancia with the "anti-government Patriot movement," Potok went on to explain how those beliefs could correspond to both homophobia and the TSA specifically:
So-called Patriots also increasingly see the DHS, which produces intelligence assessments of extremists that are distributed to other law enforcement agencies, as an enemy and even a collaborator in the New World Order conspiracy. Many believe DHS has targeted their movement and is somehow connected to the alleged construction of concentration camps by the Federal Emergency Management Agency (FEMA). The purported camps are thought to be meant for those Americans who resist a coming national seizure of all weapons from U.S. citizens.

The TSA, short for the Transportation Security Administration, is an agency of the DHS charged with ensuring the security of transportation, most notably air transportation. Although it has not been widely singled out by Patriots, it has been subjected to criticism by far-right homophobes, among others, who have alleged that TSA agents engaging in hand searches are really sexually groping travelers.
[h/t Raw Story]
[photo via Wikimedia Commons]
— —
>> Follow Matt Wilstein (@TheMattWilstein) on Twitter
Have a tip we should know? tips@mediaite.com