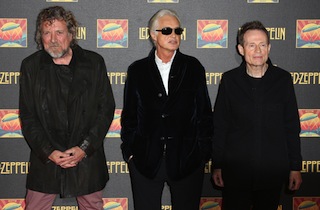 Jimmy Page, whom Homer Simpson once called "one of the greatest thieves of American black music ever to walk the Earth," and his band are being sued by 60s rock group Spirit over the opening chord progression of "Stairway to Heaven." The estate of late Spirit guitarist Randy California alleges the famous fingerpicked intro is actionably similar to that of Spirit tune "Taurus" — a similarity Spirit fans, however many of them, have noted for decades.

Zeppelin opened for Spirit on a 1969 tour, during which Page had multiple opportunities to hear "Taurus." "Stairway" was released the next year.
California brought this up in a 1997 interview. "I'd say it was a ripoff," California said. "And the guys made millions of bucks on it and never said 'Thank you,' never said, 'Can we pay you some money for it?' It's kind of a sore point with me." But California lacked the funds to acquire legal representation, and figured the statute of limitations was up anyway.
So why sue now? Led Zep is gearing up to release reissues of all its albums, including Led Zeppelin IV, and California's estate wants a writing credit at the very least.
Perhaps more than that. According to Bloomberg Businessweek, "Stairway" has grossed over half a billion dollars in royalties over the last forty-some years. For you younguns, royalties are how a select slice of rock musicians made money for a while.
Here, have some "Taurus"; you can hear the lawsuit kick in at about the 0:50 mark.
[Image via Featureflash / Shutterstock.com]
——
>> Follow Evan McMurry (@evanmcmurry) on Twitter
Have a tip we should know? tips@mediaite.com