LEGO Version of Slain Oregon Militia Member in 'Hands Up, Don't Shoot' Position for Sale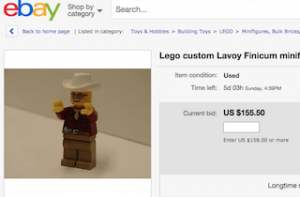 The armed takeover of a federal wildlife refuge in Oregon by a self-proclaimed militia came to an end when one of the members of the militia was shot and killed by police during a traffic stop. The man, LaVoy Finicum, lives on through the tragic video of his death and in the memories of his ardent fans.
If you count yourself among those fans, I have great news: you can head over to eBay and get a LEGO version of your white-bread hero branded with the Black Lives Matter slogan, "Hands Up, Don't Shoot" for $155. The militia members were peeved that BLM received what they considered to be fairer media treatment than they did, so this macabre toy is perhaps a fitting tribute to the slain father of 11.
In fact, the proceeds from the sale will go to those 11 kids. The listing includes the following description:
Hi, My name is Jessica.  I am LaVoy's neice.  Many of you have seen me promoting this on face book.  This will be a LIMITED EDITION 15 ONLY.  Auctions will be held every 10 days or so until they are gone.  I am trying to help my Aunt Jeanette and YES 100% of this will go directly to her.  Please see the family's FB page if you feel the need to verify at LaVoy Finicum; One Cowboy's Witness.  Also homemade pins, made by his extended family, will be available shortly ($5.00 min. donation).  My uncle set a great example for his family and friends and I am so proud of him.  You may also check me out on FB at Jessica Fauth Edgar to learn more about my uncle and who he really was!!  Thank you all for your support.
STAND BY ME
The Facebook fan page she referenced is here, though I can't find any posts about the eBay listing. Talking Points Memo has found reference to it on Fauth Edgar's page. However, on the fan page, I did find some anti-BLM posts and even one where a group member proclaimd that Lady Gaga's rendition of the national anthem at Sunday's Super Bowl was "MEANT FOR YOU MR LAVOY FINICUM."
Appropriating the BLM slogan when it is so clear that Finicum was shot after reaching for the pocket where police later found a loaded handgun is just a little unseemly, but so is selling miniature figurines with glasses painted on them for $155.
[image via screengrab]
For more from Lindsey, follow her on Twitter.
Have a tip we should know? tips@mediaite.com