Lena Dunham Goes into 'Rage Spiral' Over 'Right-Wing' Accusations of Sexual Abuse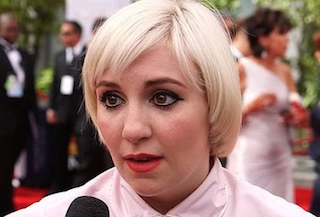 This past week, the National Review's Kevin D. Williamson finally got around to reading Lena Dunham's new memoir, Not That Kind of Girl: A Young Woman Tells You What She's "Learned"
and did not like what he found. In an long article titled "Pathetic Privilege," Williamson, who has never hid his apparent hatred for the creator and star of HBO's Girls, has a lot of negative things to say about Dunham, but now one of those things has caused her to respond.
It has to do with this passage from the book, highlighted by Williamson:
Dunham writes of casually masturbating while in bed next to her younger sister, of bribing her with "three pieces of candy if I could kiss her on the lips for five seconds … anything a sexual predator might do to woo a small suburban girl I was trying." At one point, when her sister is a toddler, Lena Dunham pries open her vagina — "my curiosity got the best of me," she offers, as though that were an explanation.
And here is the "sexual predator" comment, with a little more context:
Here's the Lena Dunham "sexual predator" joke, in case yall thought it was made up. pic.twitter.com/XmMUQD1OuK

— Dianna E Anderson (@diannaeanderson) November 1, 2014
On Saturday, Dunham could no longer keep silent, delivering this series of tweets in response to Williamson's characterization of his childhood experimentation:
The right wing news story that I molested my little sister isn't just LOL- it's really fucking upsetting and disgusting.

— Lena Dunham (@lenadunham) November 1, 2014
And by the way, if you were a little kid and never looked at another little kid's vagina, well, congrats to you.

— Lena Dunham (@lenadunham) November 1, 2014
Usually this is stuff I can ignore but don't demean sufferers, don't twist my words, back the fuck up bros.

— Lena Dunham (@lenadunham) November 1, 2014
I told a story about being a weird 7 year old. I bet you have some too, old men, that I'd rather not hear. And yes, this is a rage spiral.

— Lena Dunham (@lenadunham) November 1, 2014
Sometimes I get so mad I burn right up. Also I wish my sister wasn't laughing so hard.

— Lena Dunham (@lenadunham) November 1, 2014
The passage from Dunham's book is in line with the type of honest and awkward discussions of sexuality found on her television show as well as her first film, Tiny Furniture. It likely did not stand out as odd or worthy of note to her many fans who have been reading her new book, but to someone like Williamson who was searching for reasons to attack his latest target, it was perfect. And clearly, it struck a nerve.
[h/t BuzzFeed]
[Photo via screengrab]
— —
>> Follow Matt Wilstein (@TheMattWilstein) on Twitter
Have a tip we should know? tips@mediaite.com