Level Playing Field? NFL Scores Billions Annually While Still Enjoying 'Non-Profit' Status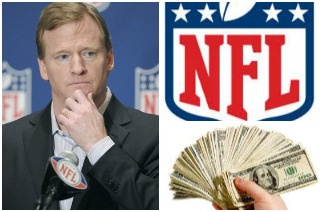 It's hard to make an argument that any business is more successful in America right now than the National Football League.
The Super Bowl is always the most-watched sporting event by a mile, its players own more household-name-status than celebrities and its apparel sells at a relentless rate even when the league is in the offseason. Nearly 30 million people (myself included in two leagues) play fantasy football. Overall, the NFL will take in over $10 billion in revenue this year, and is expected to reach $25 billion within the next 15 years. The TV rights fees alone from CBS, NBC, FOX, and ESPN bring the league $7 billion annually. Needless to say, no other entity comes close in profit or popularity.
Need proof? Just check back on Friday after the league's draft finishes #1 in cable ratings on Thursday night by a country mile…
What's very un-American, especially in an administration that always talks about rich folks paying its own share, is the NFL being classified as a non-profit organization. That's right…tax-exempt. And this wasn't some evil protect-the-rich plan that happened under a Reagan or Bush administration, but rather Lyndon B. Johnson (D) and a Democratic-controlled Congress.
Here's how the IRS defines the 501(c)6 tax-exemption:
Section 501(c)(6) of the Internal Revenue Code provides for the exemption of business leagues, chambers of commerce, real estate boards, boards of trade and professional football leagues, which are not organized for profit and no part of the net earnings of which injures to the benefit of any private shareholder or individual.
Wait…why does it say "professional football leagues" and not "professional sports leagues"? Well, this all is due to shrewd maneuvering before the NFL/AFL merger back in 1966, when legendary NFL Commissioner Pete Rozelle was petitioned to obtain an antitrust exemption for said merger. The antitrust and tax exemptions were placed into a bill hardly anyone bothered to peruse or even discern at the time. Remember, no cable news, political action committees, advocacy groups or internet to help police (for better or worse) those in power. That said, Major League Baseball, the NBA or Major League Soccer all don't enjoy the same tax-exempt status (but the NHL and PGA also do).
A little more irony: The NFL faced major pressure last year about its non-profit status from a (drumroll) Republican in the form of Senator Tom Coburn of Oklahoma. From his book, Wasteland:
The National Football League (NFL), the National Hockey League (NHL), and the Professional Golfers' Association (PGA) classify themselves as non-profit organizations to exempt themselves from federal income taxes on earnings. Smaller sports leagues, such as the National Lacrosse League, are also using the tax status. Taxpayers may be losing at least $91 million subsidizing these tax loopholes for professional sports leagues that generate billions of dollars annually in profits. Taxpayers should not be asked to subsidize sports organizations already benefiting widely from willing fans and turning a profit, while claiming to be non-profit organizations.
So how does it avoid the slings and arrows of a respected Senator? An NFL spokesman says the league office itself "is classified as a not-for-profit under the tax code because the league office makes no profit." He goes on to state teams in the league make the profits and they are taxed.
While accurate, he fails to bring up that league's 32 owners don't hand over a dime in taxes on so-called dues they pay to belong to the league (approximately $6 million annually each).
The NFL's non-profit card opens up other avenues on not paying other taxes. Why? Because state/local governments also exempt non-profits from state income and sales tax… For example, the Super Bowl held in New Orleans saw city hotels and restaurants not taxing NFL employees. You can't make this stuff up.
The NFL paid eight of its top executives around $53 million dollars in 2009; Roger Goodell was paid $29.5 million in salary in 2011 (the latest figures available). These salaries thereby force the league office to operate at a loss. And by doing so, it retains its non-profit distinction.
President Obama and Democrats want to level the playing field? Demand the wealthy pay more?
Start by looking under the hood at a bill your party passed nearly 50 years ago. If Coburn is any indication, you may actually have bipartisan support in amending that bill.
A bill that currently allows America's new pastime the ability to beat the system…
All while counting its billions in the process.
Follow Joe Concha on Twitter @ConchSports
Have a tip we should know? tips@mediaite.com