Liberal Group Reveals Plan To Infiltrate GOP Town Halls Because Operation Was 'Too Stealth' In The Past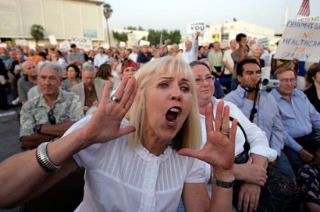 It's a plan so perfect, it can't possibly fail. With the memories of the angry voters that descended on Democrats in the summer of 2010 still fresh, still stinging, liberals and progressives desire nothing less than to see Republican officeholders endure the same torture at the hands of their constituents. On Wednesday, a report in The Huffington Post indicated that some pro-Democratic groups plan to "stir up trouble" for select Republicans at their town halls during the coming summer recess. They'll never see it coming.

RELATED: Daughter Of Newtown Victim Confronts Sen. Ayotte At Town Hall Over Gun Vote, Storms Out After Hearing Answer
"A progressive group will make a push this August to stir up trouble for Republicans when they return to their home districts and participate in local events and town halls," Salon's Jillian Rayfield wrote of the strategy. "The group Americans United for Change is launching a website called Accountable Congress to alert progressive activists to when Republicans will be holding events in their area."
The group's targets: Rep. Peter King (R-NY), Sen. Ted Cruz (R-TX), and New Jersey Gov. Chris Christie (R-NJ). Perhaps it is no coincidence that these Republicans share a high public visibility and presidential ambitions.
Former Democratic National Committee communications director and current president of AUC, Brad Woodhouse, revealed that they are going public with this strategy because they may have been "too stealth" when they attempted to infiltrate GOP town halls in the past.
"Since everyone knows that both sides are doing this, we're going to be public-facing about it," Woodhouse confessed.
> >Follow Noah Rothman (@NoahCRothman) on Twitter
Have a tip we should know? tips@mediaite.com