Libyan Comedian Laments Gaddafi Ouster: 'Not Good To Make Jokes About A Weak Guy'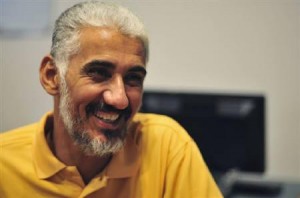 The four-decade-long rule of Moammar Gaddafi in Libya has been dealt blow after blow in the last few months, and people who previously felt censored by the regime are now free to speak their minds about the "Brother Leader." Political comedians in Libya have obviously not been free to openly mock Gaddafi, but one comic says that now that the dictator is no longer in control, cracking jokes about Gaddafi just won't be the same.
Milood Amroni has lived in Benghazi for years, but several months ago the town was wrested from Gaddafi's control and now he is free to crack jokes without fear of imprisonment. However, according to Reuters, in the midst of the political revolution, Amroni has decided to take a break from political comedy.
"I felt I had to start again from the very beginning… I felt that if I make jokes about Gaddafi they wouldn't be good jokes because he's too weak now and it's not good to make jokes about a weak guy."
He has hinted at a return to political comedy, but in his mind, "[p]olitical jokes were a weapon to fight with and now we don't need it. But maybe later."
In the past, Amroni has cracked subtle jokes at Gaddafi without mentioning him by name. In one old skit of his, a Libyan is standing on a table, saying he's "looking for 'the guy on top.'" Another man jokes, "No, the guy on top is underground." (Many Libyans thought Gaddafi resided in an underground bunker.)
Amroni sees this as a tipping point for an open dialogue in Libya, and the people are now the nation's best source of humor.
"Before, we would just give hints about politics and the people would react and feel happy. Now they're more critical and it's very difficult to make them laugh about politics because they're joking themselves … Now the people are making the jokes and we're laughing."
h/t Reuters
Have a tip we should know? tips@mediaite.com
Josh Feldman - Senior Editor