Limbaugh Accuses Washington Post Of Running 'Out And Out Lie' About Ads, Calls Reporter 'B-I-Itchy'
Limbaugh Accuses
Washington Post
Of Running 'Out And Out Lie' About Ads...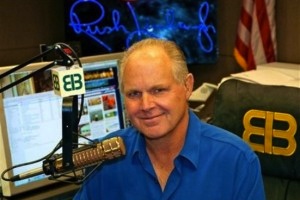 The big story of the past week, as we all know, was the vile, sexist things Rush Limbaugh said…or the vile, sexist things Bill Maher said depending on which totally objective organization you get your news from. One of the fallouts from the story has been the seeming departure of Limbaugh's advertisers. However, today on his show, Limbaugh called out the Washington Post for running an "out and out lie" about him.
The column that got the radio host riled up was by Alexandra Petri and is entitled "Rush Limbaugh's show targets jerks, judging from the latest ads," which is a headline that I'm sure warranted a quick look-see when Rush got the Google alert. Limbaugh accused Petri of calling his listeners "jerks" (which is a slight twisting of her words since technically she only said that the choice of advertisers seemed to imply that). However, what he really went after her for, and what needed no word twisting to get to, was her assertion that infidelity site AshleyMadison.com was now one of Limbaugh's main sponsors.
This is a so-called reporter, Alexandra Petri, who simply accepts false information from a site, probably Media Matters, who knows, that she trusts. We are not running spots from this company that tells you how to cheat on your spouse, we never have, and when we find out that they're running on local stations, EIB affiliates, we call the affiliate and we ask them not to. Nor will we ever accept such advertising, because you are not jerks. You in this audience are among those who make this country work.
Limbaugh has been flatly denying that he's losing advertisers despite the fact that at least a few of them have released official statements saying as much. However, he seems to have a point about the Ashley Madison thing.
When the website's CEO went on CNN and claimed he was attempting to buy the spots, Soledad O'Brien actively pointed out that Limbaugh's people had denied the website's attempts before the scandal and were liable to do so now. Petri could have just written about the advertisers leaving and left it at that, but she made the Ashley Madison connection the main thrust of her piece to make a point, thus seriously damaging her whole argument.
Now, I just hope Limbaugh didn't do anything to hurt his argument…
"Ms. Petri, I don't know who feeds you your information – I have a pretty good guess – but you might want to double-check here because you've written something that's patently false, it's an out-and-out lie complete with your b-i-itchy opinion in it, and it is untrue."
Gosh, Rush! If you had just called Sandra Fluke something nice like an "s-l-ut" or a "p-r-ostitute," we wouldn't even be having this conversation!
Listen to the clip below:
(h/t Daily Rushbo)
Have a tip we should know? tips@mediaite.com