Limbaugh: Boyhood Pictures Of Tsarnaev Show Media Trying To Do To Him 'What They Did To Trayvon'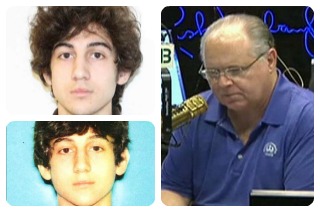 Conservative radio host Rush Limbaugh called out a variety of media outlets on Tuesday for trying "to Dzhokhar [Tsarnaev] what they did to Trayvon Martin." He said that showing images of Tsarnaev at 14-years-old is an effort to humanize him and frame him as a "normal" or "mixed-up kid," rather than an accused murder and terrorist.

'The news media are doing to Dzhokhar what they did to Trayvon Martin," Limbaugh observed. "They're regularly showing a photo of Dzhokhar that was taken when he was about 14. Soft, angelic, nice little boy. Harmless. Cute. Big, loveable eyes."
"Not at all what he looks like today," Limbaugh added. "The way, when we're shown Osama bin Laden, it's in his shepherd pose with his walking stick, walking through the mountains or whatever."
Limbaugh said that the news media is actively attempting to frame Tsarnaev as an innocent child by repeatedly showing the image of him as a young teen.
RELATED: Accused Boston Bombers' Aunt Accuses Gov't Of Setting Them Up: 'You Do The Math'
He played a montage of news and media personalities referring to Tsarnaev as a "normal" or "mixed-up kid" and expounding on the "hardship" he faced growing up in America as an immigrant.
"Totally normal kid," Limbaugh noted. "Nothing to see here. Very sad, in fact. He's got a tube down his throat."
"Why do we do this?" he asked in exasperation. "Why do we take what we know is truth and reality and try to hide from it?"
After the break, Limbaugh asked if, given that Tsarnaev is merely a "kid," shouldn't that raise concerns about what other "kids" are able to do with improvised explosive devices?
Limbaugh added that Tsarnaev does not qualify as a kid, but the 8-year-old boy he killed at the Boston Marathon last week does.
Listen to the clip below via The Rush Limbaugh Show:
h/t Daily Rushbo
> >Follow Noah Rothman (@NoahCRothman) on Twitter
Have a tip we should know? tips@mediaite.com