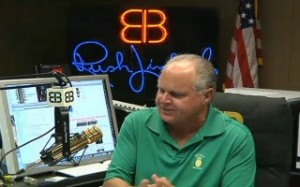 Rush Limbaugh was among the many who took to commenting on Clint Eastwood's appearance at the Republican National Convention — but unlike many, Limbaugh found Eastwood to be "bold" and the empty-chair schtick "a great bit." As for the naysayers, they're predictable, he said.
RELATED: Clint Eastwood Gives 'Invisible Obama' The Best Lines Of His Performance Art Speech
"The left, and this is predictable, they're destroying Eastwood," Limbaugh said. "Because they can't hit Romney, and they've gotta hit something. But Romney's speech doesn't have a whole lot hittable in it."
And if Eastwood was looking to provoke the Obama campaign, frankly, he succeeded, Limbaugh added — pointing to last night's tweet from the president's account as proof positive:
This seat's taken. OFA.BO/c2gbfi, twitter.com/BarackObama/st…

— Barack Obama (@BarackObama) August 31, 2012
A ha! "Eastwood succeeded in getting under Obama's skin," Limbaugh remarked, adding that "it must have gotten to him" if he chose to respond rather than ignore it.
Limbaugh said it "took me a while to figure" out what Eastwood was doing (attributed to his hearing and poor closed captioning) — but when he did, he realized it was "a great bit." That "Eastwood was the essence of simplicity" when he put forth the message that essentially said, if a guy's not good at his job, you fire him.
"Plus it was hilarious," he observed, going on to make the obvious contrast. "Of course, we are people who like laughing at Obama. The other side doesn't."
Have a listen:

(H/T Daily Rushbo)
Have a tip we should know? tips@mediaite.com