Rush Limbaugh Joins Palin In Condemning Rove's Critique Of Christine O'Donnell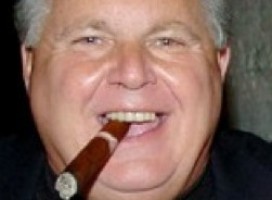 Well it looks like the GOP Civil War might be getting even bigger. On the night that Christine O'Donnell won the Republican Primary, Karl Rove rained on her parade by slamming the Sarah Palin backed candidate for being "nutty," then feeling the right-wing heat himself. This engendered an unusual backlash towards rove from host Sean Hannity and guest Michelle Malkin. Today, Palin joined the anti-Rove chorus only to be joined by Rush Limbaugh.
Writing for Talking Points Memo, Evan McMorris-Santoro reports:
O'Donnell's nomination has created deep divisions between the Republican Party and right-wing activists. Last night, Rove bashed O'Donnell — and her chances of being elected — and insisted that she's said a lot of "nutty things." He was attacked by some right-wingers for those comments. O'Donnell whacked him back in a televised interview this morning. And then Rove responded to O'Donnell and his right-wing critics, daring them to 'prove me wrong'. Then Palin slammed Rove. Now it's Limbaugh's turn.

"If 51 seats was really the objective — if getting the majority is really that important, then let's go balls to the wall for Christine O'Donnell!" Limbaugh screamed on his radio show today after playing a clip of Rove's already infamous anti-O'Donnell interview on Hannity last night.
In the clip below you here Limbaugh enthusiastically exclaim "if 51 seats was really the objective — if getting the majority is really that important, then let's go balls to the wall for Christine O'Donnell!"
He followed with a specific comment about Rove's appearance on Hannity from last night. "Everyone I know that saw this was just–they were perplexed and said, 'What's going on? Why is he so mad at a Republican?'" said Limbaugh, later adding "Where was this anger directed at a Democrat ever?"
Have a tip we should know? tips@mediaite.com