Limbaugh Lifts Ban on MSNBC to Praise GOP Rep. 'Going Right for' Andrea Mitchell's 'Heart'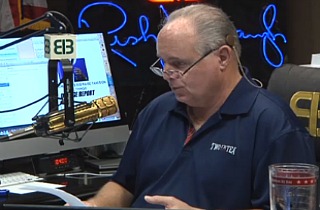 Conservative radio host Rush Limbaugh reluctantly lifted a self-imposed ban on playing clips of MSNBC on his program Wednesday in order to highlight a tense exchange which took place on Tuesday between Andrea Mitchell and Rep. Sean Duffy (R-WI). He praised Duffy for "going right for her heart" in the interview and asking questions of the press.

Limbaugh began by praising Comedy Central host Jon Stewart who recently interviewed Health and Human Services Secretary Kathleen Sebelius and asked her some tough questions about the roll-out of the Affordable Care Act's health care exchanges.
RELATED: Tense: GOP Rep. Demands Andrea Mitchell Defend Democrats Keeping Obamacare Perks
He then pivoted to Mitchell's interview, and declared that he is waiving his ban on playing clips of audio from that network. "It was prime time that inspired the ban, and then the ban was just extended to the whole network," Limbaugh said. "Why publicize that crap?"
"They're pure ignorant – some of the most arrogant, condescending smart alecks – but they're just pure ignorant, and they fit the bill of people who have no love and no respect for the founding of this country," he continued. "They believe in dictatorial power for the president when he is one of them."
Limbaugh said that his ban coincided with a collapse in MSNBC's ratings. "So, it worked in that sense," Limbaugh said.
Moving back to Mitchell's interview of Duffy, he played a portion of the interview in which Duffy slammed the press for being "pathetic" and failing to ask administration officials tougher questions than The Daily Show.
"He's going right for her heart," Limbaugh observed. "She prides herself on being the dean of journalistas, and he's telling her that you're not doing your job."
Listen to the clip blow via The Rush Limbaugh Show:
h/t Daily Rushbo
[Photo via screen grab]
— —
> >Follow Noah Rothman (@NoahCRothman) on Twitter
Have a tip we should know? tips@mediaite.com