Limbaugh: Media 'Trying Like Mad' and Failing to Blame Obamacare Issues on GOP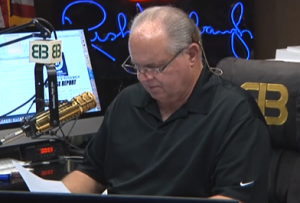 Remember how, a few weeks ago, the big media narrative was all about Ted Cruz damaging the GOP and the country over his fight to stop Obamacare? Well, considering how poorly the health care law is rolling out, Rush Limbaugh believes the fight may have very well been vindicated and for once, he said, the media isn't able to blame this scandal on the Republicans because too many people are living it.
Limbaugh reminded his audience that just a few weeks ago, even Republicans were harping on Cruz for a doomed-from-the-start strategy to defund or delay Obamacare. He took the argument that Cruz promised the tea party base something he couldn't keep and flipped it on Obama, saying "You want to talk about disappointing and using people and setting them up? How about Barack Obama, who, it could be argued, was elected on a fraudulent series of promises?"
Because now, after Cruz and Mike Lee were ripped apart in the media for trying to delay the individual mandate, Limbaugh said there's now "serious talk from the regime" about doing just that, and this time, the media can't rescue them.
"The news media can't spin that away. They're trying like mad, they're trying to blame this on the Republicans. They're trying to blame this on the shutdown, but they can't. People are living this, and they're living this in droves out there."
Listen to the audio below, via The Rush Limbaugh Show:
[photo via screengrab]
— —
Follow Josh Feldman on Twitter: @feldmaniac
Have a tip we should know? [email protected]
Josh Feldman - Senior Editor