Limbaugh Mocks CNN: They Might Start Black History Month By Nixing Show For 'Too Ethnic' Audience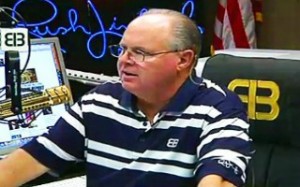 On Friday, Rush Limbaugh turned his attention to a FishbowlDC story about CNN's morning show, Starting Point, hosted by Soledad O'Brien. Limbaugh particularly zoned in on the report citing sources who said VP Bart Feder felt O'Brien's viewership was not only too small, but "too ethnic."
The news of the morning show switcheroo came with a slew of other staffing changes at the network. With Jeff Zucker taking over, Chris Cuomo, formerly of ABC, will be co-hosting a new morning show on CNN (possibly alongside Erin Burnett). O'Brien's future at the network is unclear.
To that point, Fishbowl DC's Betsy Rothstein posted a story about Starting Point's staffers and internal woes. In it, she wrote:
Many staffers were stunned when Feder constantly complained that the viewership of "Early Start" and "Starting Point" was "too ethnic," based on the high concentration of minority viewers. This common complaint worked itself up through the company, to CNN's Diversity Committee, and to other staffers, who were mortified that a CNN executive was squabbling over attracting minority viewers.
…later adding an update:
UPDATE: To clarify, Feder's issue with "Starting Point" was that the audience was too small and happened to be predominately comprised of minorities. A source close to the show insists that the ethnicity of the audience was never the issue, it was the size. Feder in no way meant to imply that the audience was too ethnic.
"CNN suits are denying that," Limbaugh remarked during his show. "But when the original report hit, there were a lot of people who worked at CNN who were stunned to learn that one of the vice presidents" made such a complaint.
CNN's viewership is "dangerously, nonexistently low," he added, but the other issue is that some employees "just plain — they don't know anything…literally ignorant." There is "rampant" ignorance.
But back to O'Brien. "How can you be too ethnic?" Limbaugh asked. "What a way to kick of Black History Month. Get rid of Soledad O'Brien because her audience is too ethnic? That's not very sensitive."
Listen below:

Have a tip we should know? tips@mediaite.com