Limbaugh On V.P. Debate: 'Biden Personified' The 'Mean, Rude, Disrespectful' Democratic Party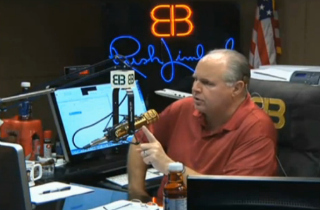 Conservative radio host Rush Limbaugh took to the airwaves on Friday where he offered his thoughts on last night's vice presidential debate between Joe Biden and Paul Ryan. Limbaugh said that he thought Biden's performance was "mean, rude," and "disrespectful." That behavior, Limbaugh said, was typical of the modern Democratic party since Bush v. Gore in 2000.
"Did you think, in your lifetime, you would ever see an angry, white, old guy be so popular with the news media and with the American left," Limbaugh asked. "I thought they didn't like angry white guys. They happened to love Joe Biden – an angry white guy."
I am aware that the consensus opinion seems to be that Biden was mean, rude, disrespectful. What I want to say to you is that the Joe Biden that you saw last night is the Democrat party. It's the modern Democrat party, particularly the last 12 years. It's who they are.
Limbaugh quoted MSNBC host Chris Matthews who, following the first presidential debate, said that Americans need an "MSNBC debate." "It's what they got last night," Limbaugh said.
"Biden did exactly what was desired and in the process hurt himself and Obama," said Limbaugh. He said that Biden had instructions to reverse the malaise that the Democratic party's base was suffering from after the first presidential debate.
"The Democrat party is very mean-spirited, extreme – Biden personified what we've been dealing with for 12 years – ever since Bush/Gore," said Limbaugh.
"I thought it was great. I think they came out of their shell. None of this so-called compassion and understanding," Limbaugh added. He said that the Democratic base voters that Biden was talking to expected a no-holds-barred fight against Paul Ryan.
Limbaugh said that he did not, however, believe that Biden drew any independents or moderates to support he Democratic party in November.
Listen to the segment below via The Rush Limbaugh Show:
h/t Daily Rushbo
> >Follow Noah Rothman (@Noah_C_Rothman) on Twitter
Have a tip we should know? tips@mediaite.com