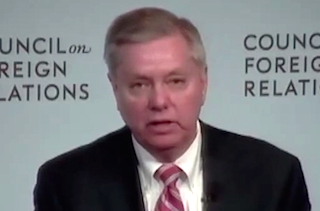 Climate change has the potential to be a major issue in the 2016 presidential election, but as possible candidate Sen. Lindsey Graham (R-SC) revealed in an appearance at the Council on Foreign Relations Monday, the Republican Party does not seem to have its policy entirely figured out yet.
Responding to a question from the audience, Graham said, "When it comes to climate change being real, people in my party are all over the board." But in his view, climate change is "real" and "man is contributing to it in a substantial way."
"But the problem is Al Gore has turned this thing into a religion," Graham continued. "Climate change is not a religious problem for me, it is an economic problem, it is an environmental problem," he added, saying that the GOP "has to do some soul searching" on the issue.
"What is the environmental platform of the Republican Party?" he asked, leaving a extended pause for effect. "I don't know either."
"So I'd like to come up with one, I'd like to have a debate within the party," Graham said. "'Can you say that climate change is a scientifically sound phenomenon, but can you reject the idea you have to destroy the economy to solve the problem?' is sort of where I'll be taking this debate."
In one of its first acts of 2015, the new Republican-led Senate made a showing of voting 98-1 to affirm that climate change is "real and not a hoax" — despite what you may have read in Environment and Public Works Committee chairman Sen. James Inhofe's book, The Greatest Hoax: How the Global Warming Conspiracy Threatens Your Future
. But just moments later, the Senate defeated an amendment that read, "Climate change is real and human activity contributes to it" by a vote of 59-40.
Watch video below, via Council on Foreign Relations:
[h/t Raw Story]
[Photo via screengrab]
— —
>> Follow Matt Wilstein (@TheMattWilstein) on Twitter
Have a tip we should know? tips@mediaite.com