Hear Michele Bachmann Warn Of 'Rise Of The Soviet Union' During Radio Interview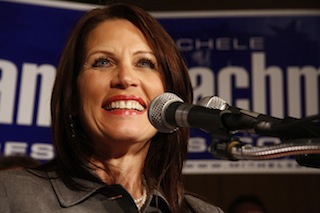 As much as we act like they aren't, Presidential candidates are only human and that means they make mistakes. They're the kinds of mistakes that any human would make after countless days and nights sleeping in a bus and being followed by cameras and microphones recording every syllable that slips between your lips. However, you've got to feel bad for Michele Bachmann. Whenever she makes a little mistake, they just seem to be so much more amusing than your garden variety candidate blooper. When most candidates are forgetting which small town they're in or mispronouncing the name of an important donor, she's accidentally celebrating the death of Elvis Presley and the life of John Wayne Gacy. And now she's gone on the radio warning about the rise of China, India, and…the Soviet Union?
The comment came during an appearance on Jay Sekulow Live!, the radio show hosted by Conservative attorney Jay Sekulow. After complimenting her on her "Supreme Court performance" debate skills, Sekulow asked Bachmann if, while travelling around the country, she was hearing different concerns or if it was all about the economy. Bachmann said that, yes, it was pretty unified but that many people were still worried about stopping abortion and gay marriage. She then continued, saying that Americans were worried about the nation's standing.
"What people recognize is that there's a fear that the United States is in an unstoppable decline. They see the rise of China, the rise of India, the rise of the Soviet Union and our loss militarily going forward."
Neither Sekulow nor Bachmann pointed out that the Soviet Union hasn't been much of a threat in the past couple decades. Hopefully they don't know something we don't.
The remark reminds us of Sarah Palin's infamous "North Korean allies" flub. Again, these are simple slips of the tongue and unless Bachmann's been using globes from the farthest, dusty corner of my elementary school's supply closet, it's unlikely she still thinks the Soviet Union exists. Still, these little errors can do much harm to a campaign. Rival candidates can seize on them to help create an appearance of ignorance that can be irreparable.
Listen to the clip from Jay Sekulow Live! below:
Have a tip we should know? tips@mediaite.com