Liz Smith: Hilary Swank, Sam Rockwell, Juliette Lewis – They Will Be 'Convicted' of Genius Come Oscar Time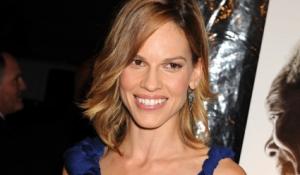 "That's Jane Fonda, isn't it? Yeah. I know her, she sang 'Let's Get Physical' a long time ago."
"Uhhhh, actually it was Olivia Newton-John who sang that."
"Oh, sorry — who's Olivia Newton-John?"
This hilarious but rather unhappy exchange occurred the other night at the after-party for the new Hilary Swank/Sam Rockwell movie, Conviction. The conversation was between a man over 50 and a girl about 25. The man moved away from the pretty girl and said to his companion, "forget earthquakes, this is the sign of the apocalypse!"

Oh, well. Miss Fonda didn't mind. Later, when this was repeated to her, she laughed uproariously: "I get it. She's thinking of me in my leotard doing all those exercise videos. That's okay." Fonda, who looked like a million bucks, also revealed she is writing a new book. "This one's on aging," she remarked with a wry chuckle and a roll of her eyes. Somebody standing next to her said, "Well, Jane, if you ever start to age, it'll be a great book." The iconic Oscar winner gave out another hearty laugh, "Oh, boy, the lighting in here must be great!"
***
Jane was one of many who packed the Club Room of the Soho Grand Hotel for the Conviction after-party, hosted by The Cinema Society's Andrew Saffir and Laura Mercier. I don't know if Jane imbibed the drink of the evening, an Appleton Estate cocktail (simply lethal!), but almost everybody did, including: Josh Groban (adorably scruffy) … Alan Cumming … Gerard Butler … Courtney Love (continuing to look glam and pulled together) … Richard Belzer … Scott Gorenstein, Liza Minnelli's PR maven … Caroline Rhea … John Mayer … Rosanna Scotto … Tony Bennett … Joe Pantoliano … Conviction castmembers Hilary Swank, Sam Rockwell, Juliette Lewis and the film's movie-star-handsome director, Tony Goldwyn. (Tony remains a handsome movie star, when he's not working behind the camera. Most fans still remember him as the evil hunk in Ghost who did such bad things to that nice young couple, Patrick Swayze and Demi Moore.) Oh, and Calvin Klein was there, accompanied by his latest mentoring project, young Nick Gruber. Calvin and pal got the once, twice and three times over. More so than even the cast or Miss Fonda! Some things can still stop a party in its tracks.
But don't worry – not that I think you would! – all that lethal liquor was sopped up by an incredible, creamy mac and cheese, laid out on the buffet table. (There were healthier choices, but nobody was feeling really healthy that night.)
***
And what of Conviction, based on the true story of Betty Anne Waters, who spent 18 years of her life fighting to free her brother from prison on a murder charge — she was convinced of his innocence. In her efforts, Betty Anne actually became a lawyer, and fought for her sibling's freedom with the best weapons available — her brain and all she'd learned about beating the system by becoming a part of it. Well, it's great!
Miss Swank, already a two-time Oscar winner, is geared up for another nomination, as is the brilliant, undersung Sam Rockwell who plays her troubled, troublesome brother; a wiseass who, nonetheless, is no murderer. The bond between brother and sister is so powerfully conveyed by Swank and Rockwell that it brings tears to the eyes even before tragedy strikes. And by the time Swank is so close to getting her bother's release, yet still stopped at every turn by frustrating legalities, old police errors and witness malfeasance, the entire audience was sniffling or outright weeping. (Even David Krumholtz, one of the stars of TV's Numbers, admitted at the party he cried without shame as the credits rolled.)

Liz Smith's column can be read in its entirety at Wowowow and is excerpted here under an agreement between Mediaite and Wowowow.
Have a tip we should know? tips@mediaite.com