LL Cool J Distances Himself From Fox News, Sarah Palin (Update: Fox Responds)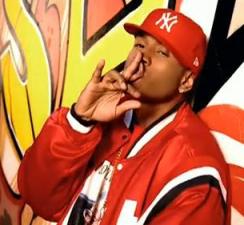 Well this is an interesting twist – actor/musician LL Cool J, who is one of the celebrities who will be part of Sarah Palin's Thursday show (and is in the promo), isn't happy about the 'misrepresentation.'
He is reacting on Twitter – but is he 'misrepresenting' the circumstances as well?
Do me a favor. Start this video now – it will provide the soundtrack to the rest of the post:


Ok, we're good? Now let's get started.
So Palin's special on Thursday at 10pmET is called Real American Stories (here's a preview), and although it is the premiere episode, the concept of "Real American Stories" is not new for Fox News. It began as a website back in July 2008 – a website, it is important to note, that is owned by Fox News.
Well the website is still there, as is the interview LL Cool J did for it (watch the video here). But here's what Ladies Love Cool James had to say on Twitter last night:
Fox lifted an old interview I gave in 2008 to someone else & are misrepresenting to the public in order to promote Sarah Palins Show. WOW
So here's where he's right, and wrong:
• "Fox lifted an old interview" – Yes, it appears they did. The LL (and Jack Welch) segments were never billed as actual Palin interviews, just that they were to be featured in the show. It sounds like Palin will just be fronting these pieces, as opposed to the Toby Keith interview, which sounds more like a sit-down.
• "…I gave in 2008 to someone else" – No, it looks like he did indeed give the interview to Fox News. Or, at the very least, to a Fox News-run website.
• "…& are misrepresenting to the public" – It has been a little unclear through the promo what exactly Palin's role will be. It sounds like it won't be a pure interview show, although the Los Angeles Times reports she "interviewed people in studio for some of the segments." Clearly, though, not LL.
• "…in order to promote Sarah Palins Show" – Honestly, I can't imagine how many FNC viewers come over because LL Cool J will be featured. Toby Keith, sure, but LL? If you were planning on watching the special before, you likely still would have if LL Cool J wasn't involved. No offense, LL.
• "…WOW." – Yeah, wow is right. This special will likely garner huge ratings, and this extra publicity isn't necessarily a bad thing. But it does make it a little surreal. Rap battle!
> Update: A Fox News spokesperson responds:
Real American Stories features uplifting tales about overcoming adversity and we believe Mr. Smith's interview fit that criteria. However, as it appears that Mr. Smith does not want to be associated with a program that could serve as an inspiration to others, we are cutting his interview from the special and wish him the best with his fledgling acting career.
Love it…apparently not NCIS: Los Angeles fans.
—–
» Follow Steve Krakauer on Twitter
Have a tip we should know? tips@mediaite.com