Longtime Christie Aide: 'I'm Voting for Hillary Clinton,' Principle Must Trump Party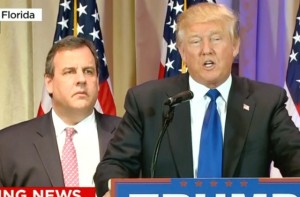 Yesterday it was a top Jeb Bush advisor, now it's a longtime Chris Christie advisor who is proclaiming that she is going to support Hillary Clinton over Donald Trump in a heartbeat.
Maria Comella cut her official ties to Christie this year after being one of his longest-serving senior staff members––a decision she made less than a month after Christie endorsed Trump.
She talked to CNN and simply said of Christie, "He has the utmost respect for people expressing their own opinions."
Comella explained she's speaking out because of the dangerous stakes this year:
As someone who has worked to further the Republican Party's principles for the last 15 years I believe that we are at a moment where silence isn't an option. We are here today in part because as a party in the past we have remained silent when things have made us uncomfortable. Instead of speaking out against instances of bigotry, racism and inflammatory rhetoric whether it's been against women, immigrants or Muslims, we made a calculus that it was better to say nothing at all in the interest of politics and winning elections. For me, if our party has a future, we have to change that trajectory and lead by example.

We have to stop thinking that winning at any cost is more important than governing principles.
"I'm voting for Hillary Clinton in November," Comella declares, "and I'm voting for her because I don't believe it's enough to say you aren't for Donald Trump… There are times when principle trumps (no pun intended) party and we have to be okay with acknowledging that."
She trashes Trump as a dangerous demagogue who preys on people's fears and, as she put it, is incapable of showing even the slightest sense of "humility and empathy in the face of grieving parents."
[image via screengrab]
— —
Follow Josh Feldman on Twitter: @feldmaniac
Have a tip we should know? [email protected]
Josh Feldman - Senior Editor