Looks Like Trump Might Have Used Charity Money to Buy Himself a $12,000 Souvenir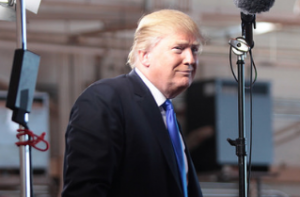 You know how football player Tim Tebow has mentioned an interest in running for office, sort of like reality TV star Donald Trump did back in the day? Well, in the event he ever does run, Trump might very well support him. After all, the Donald is a big fan: He dropped $12,000 on a Denver Broncos helmet autographed by the prayerful player in 2012.
Was that $12,o00 his to drop, though?
The Washington Post wondered the same thing after investigating the presidential contender's charity giving and finding out that after winning the helmet and a jersey during an auction to benefit the Susan G. Komen organization, Trump paid through the Donald J. Trump Foundation. Here's what they found:
Trump himself sent no money. (In fact, a Komen spokesperson said, Trump has never given a personal gift of cash to the Komen organization.) He paid the bill with money from a charity he founded in 1987, but which is largely stocked with other people's money. Trump is the foundation'spresident. But, at the time of the auction, Trump had given none of his own money to the foundation for three years running.
The IRS has rules against "self-dealing" that were set up to prevent those in control of charities from using the money to directly benefit themselves. In 2012, Trump's organization denied having engaged "self-dealing" on its tax returns. Whether that is true or not depends on what happened to the memorabilia. If he donated it to another charity, the IRS rules aren't really broken. If he kept the stuff, though, the rules are, according to experts consulted by WaPo.
They can't be sure where the helmet is because Trump's spokespeople wouldn't reveal that information, but in the end, it doesn't matter. Tebow's autographed merch is now worth a little more than $400. The Art of the Deal, indeed.
[image via screengrab]
For more from Lindsey, go to Twitter or Facebook.
Have a tip we should know? tips@mediaite.com