Louis Farrakhan Warns Racism Could Result In Assassination: 'They Want A Muslim To Kill President Obama'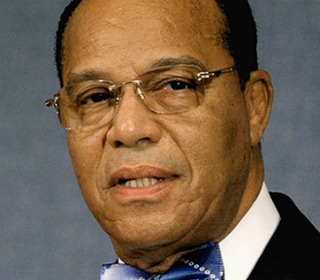 This past Sunday at Chicago's United Center, Nation of Islam leader Louis Farrakhan warned thousands that racism in the U.S. could result in an assassination attempt on President Barack Obama. Satan, he told those gathered, has exerted his influence over racially-motivated groups working in politics and within society.
"Do you think they're wicked enough to be plotting our brother's assassination as we speak?" he asked, referring to Obama. "I believe," he also added, "they want a Muslim to kill President Obama," suggesting that a patsy might be used to shift focus and take the blame. Farrakhan also had some words of criticism for the President, however, taking issue with Obama's support in removing Middle Eastern leaders (Farrakhan had been friends with ousted Libyan leader Muammar Gaddafi), and warning him against taking military action Iran.
RELATED: Hannity: Farrakhan Comments Link Obama To 2008 Meme Jeremiah Wright… Again
But, according to the Chicago Tribune, Farrakhan had much to say about a variety of other topics as well — from fast food meals to the role of Jewish people in Hollywood:
He spoke for more than three hours on a broad array of topics, excoriating U.S. foreign policy, suggesting that the 9/11attacks were a government-planned pretext for war in the Middle East, lamenting recent extreme weather and attacking mothers for serving their children food from McDonald's. He also returned repeatedly to a topic that has attracted intense controversy in the past: the influence of Jews in politics and media.

Farrakhan drew a distinction between noble Jews and followers of "the synagogue of Satan," and he pointed to a recent incident in which the publisher of a Jewish magazine suggested Israeli security forces could help preserve Israel by killing Obama. He attacked Israeli policies, while also directing criticism at perceived Jewish influence in the U.S.

"Jewish people were not the origin of Hollywood, but they took it over," he said, blaming the entertainment industry for degrading the country's morality.
Farrakhan's speech was given in commemoration of Saviours' Day, which celebrates the birth of Nation of Islam founder W. Fard Muhammad:
h/t Chicago Tribune
Have a tip we should know? tips@mediaite.com