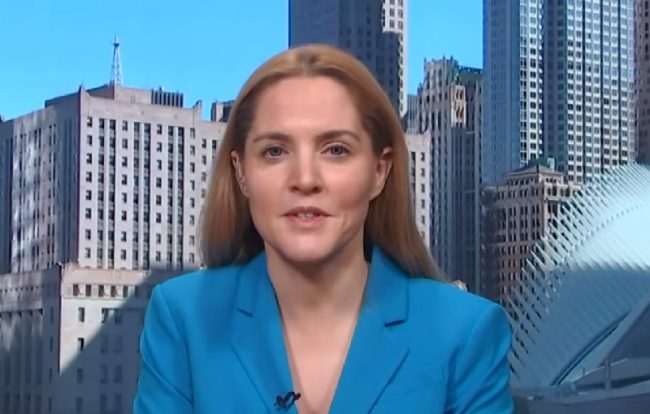 Perhaps the most visible and well-known of the Russia/Trump conspiracy 'experts' who have gained notoriety (and thousands of Twitter followers) over the past few months is a former UK Conservative Member of Parliament, Louise Mensch. And if you follow Mensch, or have even been somewhat exposed to her tweets or media appearances, you may have come to the conclusion that nearly everything can be blamed on or tracked back to Russia.
First off, a little bit about Mensch. She isn't just a former politician who has decided to take to writing about politics after leaving office. No. Prior to being elected to Parliament, Mensch published a number of works of chick-lit fiction under her maiden name, Louise Bagshawe. Following her exit from Parliament, Mensch decided to become an investigative journalist, began working for News Corp., and helped launch the news and opinion site Heat Street.
It was at Heat Street where she first gained her fame/notoriety in the 'Russia and Trump are in cahoots' crowd, and deservedly so. Prior to leaving the outlet in December, she wrote a piece that ended up being cited by the White House in March as evidence to back the president's notorious tweetstorm accusing former President Barack Obama of wiretapping him at Trump Tower before the election.
That piece, published just before Election Day, stated that the FBI had been granted a FISA court warrant the month before to investigate members of Trump's campaign that may have ties to Russia. While the article didn't really back up Trump's tweets about Obama directly demanding wiretaps of Trump's campaign, her article has largely been proven to be correct.
She has since claimed that her sources trusted her with that info due to her advocacy on behalf of intelligence agencies and collection. Per The Guardian earlier this year:
"They gave me one of the most closely guarded secrets in intelligence," she said in a telephone interview. "People are speculating why someone trusted me with that. Nobody met me in a darkened alley in a fedora, but they saw me as someone who has political experience and is their friend. I am a pro-national security partisan. I don't have divided loyalties."
Following the realization — after the fact — that she had actually nabbed an amazing scoop and story, she was given column space in the New York Times to write an op-ed, which she devoted to the questions she feels should be asked of certain people when it comes to Russian hacking.
Since leaving Heat Street, however — and in the wake of both Trump's election victory and the ramp up of the Russian investigations by both Congress and the FBI — Mensch has become increasingly outspoken about the connections between Russia and seemingly every person and event that could be conceivably seen as helping bring about a Trump election. And it would appear that with each over-the-top and outlandish claim, her new found credibility takes hit after hit.
Earlier this month, Mensch notoriously blamed the protests and riots that occurred in Ferguson following the death of Michael Brown on the Russians, claiming she had the proof "archived."
That's because you, Russia, funded riots in Ferguson. See 0 hour I have your connections to Trump archived via Schiller and Scavino https://t.co/aTUDlCGkYi

— Louise Mensch (@LouiseMensch) April 9, 2017
When immediately called out on it, Mensch pointed to a couple of well-known alt-righters who had previously be sympathetic to the Black Lives Matter cause.
@PattyArquette Right, but good people can get infiltrated by bad ones. @CassandraRules was deep into it, as was @BakedAlaska. Now both Russia/Trumpers

— Louise Mensch (@LouiseMensch) April 9, 2017
Of course, this isn't the only recent example of her citing Russian interference as the cause of a specific event. She has accused the young teenage girl that Anthony Wiener was sexting as being a plant by Russia and Vladimir Putin. Mensch also believes that Russia murdered Breitbart.com founder Andrew Breitbart was murdered by Putin. Why? Because it helped pave the way for Steve Bannon to take over and eventually cozy up to Trump.
I absolutely believe that Andrew Breitbart was murdered by Putin, just as the founder of RT was murdered by Putin.

— Louise Mensch (@LouiseMensch) February 24, 2017
And, guess what? The non-partisan, non-profit journalism group ProPublica is apparently a pro-Russian outlet run by Bannon.
This links to a pro-Trump Russian shilling tweet by @ProPublica which they deleted.

DO NOT LEAK TO THEM. THEY ARE BANNON https://t.co/Khrt9IZb56

— Louise Mensch (@LouiseMensch) January 29, 2017
Also, with Democrat Jon Ossoff unable to grab more than 50% of the vote in Tuesday's special election in Georgia, leading to a runoff, Mensch explained how there was a "Russian agent of influence" at work:
Russian agent of influence no two ways about it at this point https://t.co/OW1C0pc9Di

— Louise Mensch (@LouiseMensch) April 19, 2017
All of this finally led to a trending Twitter hashtag, #MenschAMovie, over her apparent tendency to immediately offer knee-jerk 'Russia is to blame' reactions to every current event.
She has also taken to pointing to members of the Republican Party itself that aren't directly part of the Trump administration. Recently, that finger-pointing turned to Rep. Jason Chaffetz (R-UT). Days before Chaffetz announced he wasn't going to seek re-election next year, Mensch took to Twitter to claim the House Oversight Chairman had been compromised by Russia.
Sources say there is kompromat on @jasoninthehouse; that this is why he turned and that @fbi know it. #traitorinthehouse

— Louise Mensch (@LouiseMensch) April 13, 2017
Of course, this tweet gained a lot more notoriety following Chaffetz's announcement that he was leaving the House. And the Twitter chatter went into overdrive when it was pointed out by the Utah Republican that he may leave office before his term is up, making it appear that there was definitely fire behind the Mensch's smoke. But to go so far as saying Russia has "kompromat" on him…really?
And even before House Intelligence Committee Chairman Devin Nunes got himself into ethical hot water over his potential sharing of classified information when alleging Trump transition members were unmasked, Mensch was fingering him as part of the Russian plot.
Nunes was part of it, as Sessions was part of it https://t.co/u3dUu72iUG

— Louise Mensch (@LouiseMensch) February 27, 2017
Look, it is actually quite possible that much, perhaps even most, of what Mensch has reported and written on when it comes to Russian/Trump coordination is true, or at least true-ish. I mean, there are multiple investigations going on into the potential collusion, and each day brings out a trickle of additional information that appears to show there was at least something awry when it comes to some Trump associates and Russian connections. And her track record on being way ahead of the story is pretty good. For now.
However, Mensch's continual extraordinary assertions on Twitter, where she posts dozens if not hundreds of times a day, make it seem like she is not only making up things out of whole cloth, but doing so in order to gain attention. And let's face it — she now has nearly 250,000 Twitter followers and has found herself a regular of cable news.
There is an audience for this. A large portion of this population is desperately holding onto the hope that there is a smoking gun that will directly link Trump to Putin, showing that the two worked in conjunction to steal the 2016 election. And Mensch is essentially selling that product to an ever-widening following.
The deal is, she's a whole lotta fun to start. She really is. And while you are going through her Twitter feed, you see things that absolutely click with your brain. They fit. They make sense. But unless her conspiracies come through, her reputation will continue to abate.
As of now, she's almost to the point where she is considered a joke. Can she reverse that trend? Is she even able to?
[image via screengrab]
—
Follow Justin Baragona on Twitter: @justinbaragona
This is an opinion piece. The views expressed in this article are those of just the author.