Lt. Col. Oliver North Confirming Big Government Report Of Mullah Omar's Capture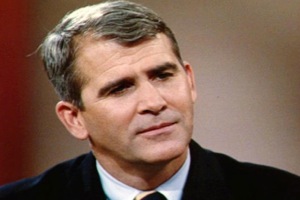 The plot surrounding the possible capture of Taliban leader Mullah Mohammed Omar continues to thicken. As with everything surrounding the elusive Al-Qaeda ally, no word is quite official, but Big Government, who broke the anonymously-sourced story of Omar's capture earlier this week, is sticking to its report and has now published an independent confirmation by Lt. Col. Oliver North that Omar is in custody.
North's report, while still anonymous, is much better sourced than the initial one by novelist Brad Thor, if only because North has a well-known military background and notes that he received his information straight from the source while in Afghanistan:
Last month, while I was still in Afghanistan, rumors were circulating that the ISI [Pakistan's Inter-Services Intelligence Directorate] had detained Mullah Omar in Karachi on March 27, and placed him under house arrest in what they call "community care." American operatives say he has since been transferred to a secret ISI lock-up under the Pakistani euphemism: "institutional care." According to several reports, all of this information was confirmed to U.S. officials by a senior Pakistani military officer "several weeks ago."

"Why would the ISI take down 'one of their own?'" I asked. The answer came in a mixed metaphor but the meaning was clear: "The ISI intends to be in the driver's seat when the 'Peace Talks' get underway in Afghanistan later this month. And the ISI officers calling the shots know Mullah Omar is the best bargaining chip they have."
Thor also linked to a story earlier claiming that Afghan authorities had received word that Omar was interested in peace talks due to the crumbling infrastructure of the Taliban, which is consistent with North's claim that Omar will be used as a bargaining chip in the upcoming peace talks.
North did not actually get to break the news himself as, seconds before his post went live, the site's owner, Andrew Breitbart, bizarrely name-dropped North in the middle of another round of jabs with Twitter buddy and Gawker.tv Night Coordinator Matt Cherette, excusing himself from a discussion on his favorite Lady Gaga song to tend to the Mullah Omar story: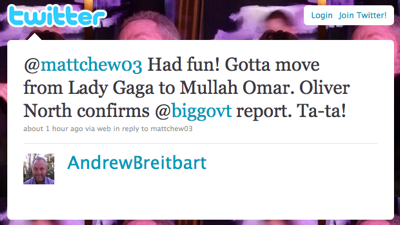 As the North update was posted less than an hour ago, no other news sources have been able to confirm or deny the second story, and it's too early to tell to what extent it will get coverage. The Thor piece mostly made the rounds on right-leaning websites, and even there it was met with suspicion. This is the second story of the same vein this week, now with a big name behind it that confirms he was on the ground, and Big Government shows no signs of backing down from the story. That said, they are probably going to have to come up with a source that isn't anonymous and some concrete evidence soon for the story to be picked up by the institutional media.
Have a tip we should know? tips@mediaite.com