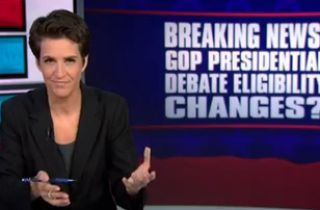 Rachel Maddow began her Tuesday night show with a look at the five polls that Fox used to determine which GOP candidates would appear on the main stage for the Thursday night debate. Maddow described how Fox uses the numbers from five of their six go-to polling organizations, but pointed out that Fox skipped over one poll in favor of a less recent one.
Maddow said even though NBC's poll numbers were gathered at a later date than Quinnipiac's, Fox decided to go with the latter, even though it suggested a potentially significant difference in the numbers for Rick Perry and John Kasich. The Quinnipiac poll placed both candidates at 3 percent, when the NBC numbers had Kasich at 5 percent and Perry at 2 percent.
Maddow acknowledged that these numbers were small, but argued the difference the numbers make at this stage could have a significant impact on the entire Republican nomination. She elaborated that the divide gives the implication that Kasich's resonance with Republicans is drastically separate from Perry's, whose non-entry could be a decisive blow to his campaign along with those of the other six.
"It's impossible to look like a viable next president of the United States if they won't let you into the room with the major candidates to make your case," Maddow said. She went on to say that with Fox's rules, they are now in a position where they must prove that the difference between 10th and 11th place is politically-decisive chasm:
"They know how consequential their decision is here. they know how the cutoff of candidate in tenth place versus 11 place, it better not look like an exceedingly close call or it will be way too obvious that Fox has, in fact, perverted the course of the Republican primary to end the candidacies that might otherwise have worked out in the end."
Maddow concluded that Fox's poll decision was a violation of its own rules governing who will enter the primary debate. "They moved the goal posts in the middle of the game in a way that makes it look like they were trying to justify the lineup of who they wanted on stage."
You can watch the segment here, via MSNBC:
[image via screengrab]
Have a tip we should know? tips@mediaite.com