Maher to MSNBC: 'You're Turning Into Fox News; Bridgegate Has Become Your Benghazi'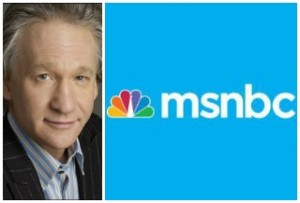 Even as the other national networks moved on from BridgeGate, leaving the particulars of the ongoing investigations to state press, MSNBC has kept at it, with everyone from Rachel Maddow to Steve Kornacki talking every single little new detail and milking it for all it's worth. And while following the travails of the Chris Christie affair has done wonders, to an extent, for MSNBC's ratings, one viewer in particular is starting to get sick of it: Bill Maher.

Maher penned a Valentine's Day message to MSNBC, telling them they're "obsessed" with Christie in the same way Fox News was with Benghazi.
In the words of a spurned lover, Maher explained that he's going to be "seeing other news organizations" because they only have eyes for Christie now. He looks back fondly on what times they had together––"We finished each other's Sarah Palin jokes"––before concluding that the relationship isn't working.
Look at yourself. You're turning into Fox News. Bridgegate has become your Benghazi, and this isn't easy to say, but you and I are no longer on the same news cycle. Sure, you read me the results of a recent Gallup poll, but you never really ask me how I'm feeling. It's not you, it's… Chris Christie.
And while the Christie story is still a pretty big local story, he continued, "the problems of three little lanes of traffic don't amount to a hill of beans in this crazy world."
[h/t TPM]
[photo via screengrab]
— —
Follow Josh Feldman on Twitter: @feldmaniac
Have a tip we should know? tips@mediaite.com
Josh Feldman - Senior Editor