Malkin Goes After Colbert: Liberals 'Profit Off of Cheap, Vulgar, Buck-Toothed Asian Stereotypes'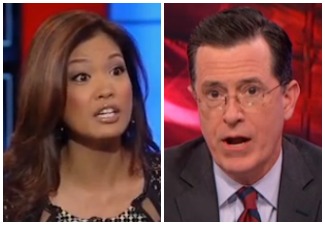 One of the most prominent people to join the #CancelColbert trend last weekend was Michelle Malkin, Twitchy being one of the first sites to report on the offending tweet. Malkin took to her column yesterday to target Colbert, saying liberals by-and-large are "the most prominent, public purveyors of Asian stereotypes and ethnic language-mocking in America."
Malkin says the "cringe-worthy act" shows that it's not just satire but "the real Colbert enjoys crude ethnic-language mockery just a little too much." In his response to the Twitter outrage on Monday, Colbert mocked Malkin and her book In Defense of Internment, which she calls a lazy cheap shot.
Malkin argues that to liberals, "Asians are also convenient, 'uncool' punching bags," and goes down a whole list of liberals making politically incorrect remarks about minorities and charges they're far more ignorant than the likes of Rush Limbaugh.
[M]ainstream Hollywood productions from Breakfast at Tiffany's (Mickey Rooney's "I.Y. Yunioshi") to Sixteen Candles ("Long Duk Dong") to the sitcoms "How I Met Your Mother" (an entire show in yellowface) and "2 Broke Girls" ("Han Lee") have done more to disseminate and profit off of cheap, vulgar, buck-toothed Asian stereotypes than Rush Limbaugh ever did.

It's not the outrage that's manufactured, but Colbert's sanctimonious myth of left-wing purity and his phony indictment of conservatives as the predominant forces of intolerance in America.

But what do I know, Mr. Colbert? Me so stupid. You so funny.
Some on the right haven't been as outraged at Colbert as Malkin. On Red Eye Andy Levy called the whole thing "silly," despite his own personal opinion of Colbert.
[photo via screengrab]
— —
Follow Josh Feldman on Twitter: @feldmaniac
Have a tip we should know? tips@mediaite.com
Josh Feldman - Senior Editor