An Alabama man who took to social media to celebrate the destruction of a Tennessee wildfire that has led to thousands being evacuated and more than a dozen killed was fired from his job. Many of his online critics are now speculating he might be the arsonist behind the blaze, though no suspect has been named
The man, Coleman Bonner of Wessington, posted a Facebook message on November 29th expressing joy at Gatlinburg, TN being burned to the ground due to the residents being Donald Trump supporters, among other things.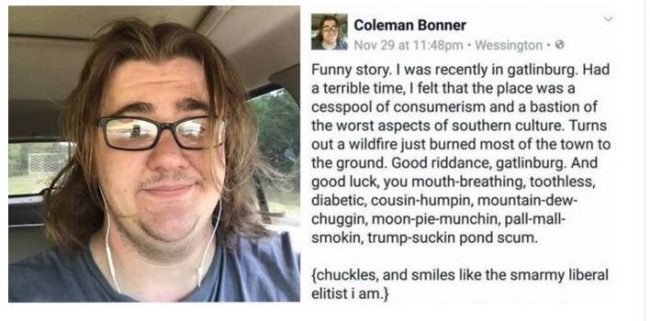 "Funny story. I was recently in Gatlinburg. Had a terrible time. I felt the place was a cesspool of consumerism and a bastion of the worst aspect of southern culture. Turns out a wildfire just burned most of the town to the ground. Good riddance, Gatlinburg. And good luck you mouth-breathing, toothless, diabetic, cousin-humpin,' mountain-dew chugging, moon-pie-munchin,' pall-mall smoking,', Trump-suckin' pond scum," Bonner stated on his personal page.
"(Chuckles and smiles like the smarmy liberal elitist I am)," he added.
According to AL.com, Bonner is no longer working at Express Oil Change after they began receiving messages from people complaining about the post.
Express Oil Change said after "fully and thoroughly" investigating the situation, Coleman is no longer employed with the Birmingham-based company.

"We are absolutely disgusted at what was posted, and want to emphasize that a person of this character does not represent who we are as a company. Our thoughts and prayers are with those who have been affected by the fires throughout the East Tennessee region, along with communities that were affected throughout the Southeast due to the recent drought," the company said in a written statement.
Bonner did not respond when asked by the paper for comment and has since deleted Facebook and Twitter accounts.
[image via screengrab]
–
Follow Justin Baragona on Twitter: @justinbaragona
Have a tip we should know? tips@mediaite.com