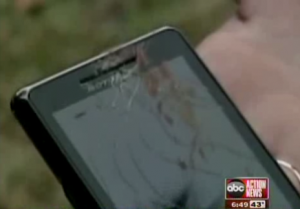 Well, it looks like there may be one more thing that "Droid does" and that would be "exploding against your ear." I guess giving people brain tumors over the years is just too slow for our modern day technology. A Texas man was rushed to the hospital after his smart phone decided to end his phone call in a decidedly unusual way. As the man looks into legal action, experts will be seeking to see if the explosion was a manufacturer's error or user caused. A third possibility is that the man is secretly a member of the Impossible Missions Force and didn't put the phone down before his message self-destructed.
From ABC Action News:
"Aron Embry said he was making a call on his new Motorola Droid 2 phone when he heard a loud pop, then his ear started bleeding.

Embry told afterdawn.com, 'I heard a pop. I didn't feel any pain initially. I pulled the phone down. I felt something dripping. I realized that it probably was blood. I went into the house and as I got into the bathroom and once I got to the mirror and saw it, it was only then I kinda looked at my phone and noticed the screen had appeared to burst outward.'

The 30-year-old getting stitches but doctors said he didn't suffer any damage to his hearing."
Wow, this really is a terrible story for everyone. Everyone except iPhone sellers that is. Having part of your ear blown off has got to make a guy long for those quaint dropped calls.
Check out the video report from ABC below. Be warned that it does include an image with a fair amount of blood in it. Nothing outside of a PG rating, but unpleasant nonetheless.
(via Breitbart.tv)
Have a tip we should know? tips@mediaite.com