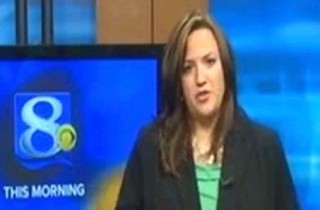 The hearts of many sank for local news reporter Jennifer Livingston earlier this week when she read an unsolicited note on-air from a man telling her to lose weight. Much of the public voiced support for Livingston, including CNN's Soledad O'Brien. But Kenneth Krause, the guy who penned the seemingly mean-spirited letter, isn't backing down, as he argues he was merely trying to help the "overweight" anchor lose weight and set a healthy example for viewers.
In response to the nationwide reaction to his words, Krause issued a statement:
"Given this country's present epidemic of obesity and the many truly horrible diseases related thereto, and considering Jennifer Livingston's fortuitous position in the community, I hope she will finally take advantage of a rare and golden opportunity to influence the health and psychological well-being of Coulee Region children by transforming herself for all of her viewers to see over the next year, and, to that end, I would be absolutely pleased to offer Jennifer any advice or support she would be willing to accept."
Krause, who is a personal injury lawyer, clearly struck a nerve with Livingston in his initial note about her "community responsibility" to thin out, but she's most concerned with the pervasive nature of Internet bullying as opposed to his swipes at her. Livingston said of his Friday email:
"While I tried my best to laugh off the very hurtful attack on my appearance, my colleagues could not do the same, especially…Now first, the truth is, I am overweight. You could call me fat and yes, obese, on a doctor's chart. But to the person who wrote that: you don't know me. That your cruel words are pointing out something that I don't see? You don't know me. You are not a friend of mine. You are not a part of my family, and you have admitted you don't watch this show. You know nothing about me but what you see on the outside, and I am much more than a number on a scale…Now, I am a grown woman, and luckily for me, I have a very thick skin; literally, as that email pointed out, and otherwise. And that man's words mean nothing to me. But what really angers me about this is there are children who don't know better… And this behavior is learned. It is passed down from people like the man who wrote me that email. If you are at home, and you are talking about the fat newslady, guess what? Your children are probably going to go to school and call someone fat. We need to teach our kids how to be kind, not critical, and we need to do that by example."
The problem, Livingston said, is that the web has become a "weapon" and invaluable tool for bullies to hurt others and Krause was perpetuating the problem by going after her looks.
Watch Livingston's emotional rebuttal to the letter, via WKBT:
[h/t Jezebel]
—
>> Follow Laura (@LauraDonovanUA) on Twitter
Have a tip we should know? tips@mediaite.com