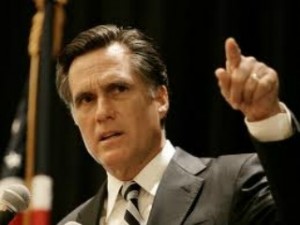 Mitt Romney may be avoiding mention of his faith on the campaign trail, but that doesn't mean his fellow Mormons are leaving it out of the discussion. According to an Associated Press article, Latino Mormons are unhappy with Romney because of his stance on the immigration issue.
The article cites 43-year-old Antonella Cecilia Packard as one example. Packard has a mission: "defeating Mitt Romney and any Mormon politician who betrays what she sees as a basic Mormon principle of protecting immigrants." Packard added that while he's happy to see a Mormon running for president, "a lot of us aren't supporting him because of his stance against immigrants."
To the "growing number of vocal Hispanic Mormons," the immigration issue is tied closely with their religious beliefs. History professor and Sunday school teacher Ignacio Garcia told the AP:
"We view immigration as a God event … The book says no one comes to the Land unless they are brought by God."
Garcia also said about 70 percent of Hispanic Mormons are said to be illegal immigrants — and that Latinos are the fastest growing group among their faith.
The extent of their influence, however, has an obstacle. As the story notes, illegal immigrants cannot vote. And those who can are more likely to "lean toward moderate Democratic candidates."
The topic of immigration, of course, will certainly be part of the discussion as the election season continues. But it's unlikely that a candidate who has rarely mentioned his faith would go out of his way to address the specific concerns of this group.
Have a tip we should know? tips@mediaite.com