Maraschino Cherry Magnate Commits Suicide After Authorities Find Evidence of Marijuana Farm in Factory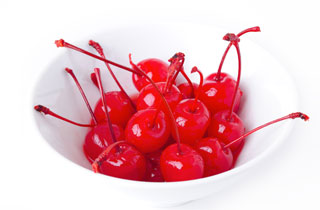 The owner of a massive maraschino cherry company committed suicide in front of investigators yesterday after they discovered three "large bags" of marijuana in his factory.
According to the New York Post, investigators received a tip claiming that the Dell's Maraschino Cherries factory in Red Hook, Brooklyn was a front for a marijuana business, the authorities, unable to get a warrant to search the place, decided to send in the Department of Environmental Protection to conduct a routine inspection and search for any signs of a hidden marijuana business. Suspicions arose when they discovered a basement full of luxury cars, and, behind some "suspicious shelving," a fake wall secured by magnets.
As the room was suddenly hit with the stank of weed, the factory's owner, Arthur Mondella, ran to his personal bathroom and locked the door. "Take care of my kids," he told his sister, and then the sound of a gunshot rang out.
Soon, authorities found three bags of marijuana, as well as "hundreds of thousands of dollars" and evidence of a possible weed farm — notably, because Mondella shot himself:
"Poor guy, in this day and age, you can do no jail time for marijuana," a law enforcement source said. "I don't know why he would do that, unless there's something worse down there."

…Investigators also found generators inside the factory as well as cameras in "every little nook and crevice," the source said. The building was outfitted with barbed wire and motion detector lights.

"All that points to guilt — you're not protecting your cherries," the source said. "He's probably growing."
Mondella leaves behind an ex-wife, a five-year-old daughter, and a factory whose neighbors often complained smelled like weed.
[h/t Gawker]
[Image via Shutterstock]
— —
>> Follow Tina Nguyen (@Tina_Nguyen) on Twitter
Have a tip we should know? tips@mediaite.com