Marco Rubio Convinces Rush Limbaugh That Bipartisan Immigration Plan Is 'Admirable And Noteworthy'
Rubio Convinces Rush That Immigration Plan Is 'Admirable And Noteworthy'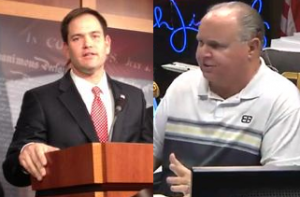 Senator Marco Rubio (R-FL) took his case on immigration reform to The Rush Limbaugh Show today ahead of President Obama's announcement of the White House plan in Las Vegas this afternoon.
Rush Limbaugh, who initially dismissed the bipartisan Senate plan as nothing more than amnesty, began his interview with Rubio by asking, "Why are we doing this now?"
"In the absence of us moving forward with our own principles," Rubio responded, "the left and the president will tell people what we stand for, and it's not necessarily going to be true."
Rubio laughed off Limbaugh's suggestion that Democrats don't want stronger border security. "If 70 percent of the Hispanic vote went Republican, do you think the Democrats would be for any part of this legislation?" Limbaugh asked.
When asked by Limbaugh where he sees common ground between Republicans and President Obama, Rubio said, "The president has an important decision to make here. He can either decide he wants to be part of a solution, or he can decide that he wants to be part of a political issue and try to trigger a bidding war. I'm not going to be part of a bidding war, to see who can come up with the most lenient path forward."
While he began the interview with deep skepticism about what the group of senators were trying to do with their immigration proposal, towards the end Limbaugh had come around, praising Rubio's efforts given the political reality Republicans are up against on this issue. "What you are doing is admirable and noteworthy," Limbaugh told Rubio. "You're meeting everybody honestly, forthrightly. You're meeting everyone halfway."
Listen to audio of the full interview below:
—
>> Follow Matt Wilstein (@TheMattWilstein) on Twitter
Have a tip we should know? tips@mediaite.com