Marco Rubio Warns GOP to Stay Away From Hacked WikiLeaks Information: 'Tomorrow It Could Be Us'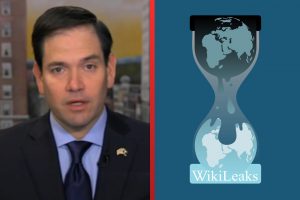 Let's dispel with this fiction once and for all that the WikiLeaks dump is a good thing.
While his own party's standard-bearer has been using the information obtained through the WikiLeaks dump against Hillary Clinton, Florida Senator Marco Rubio is warning his conservative colleagues that they could be the next ones targeted.
The hacking effort has revealed tens of thousands of emails from the personal account of John Podesta, the chief architect and Chairman of the Clinton campaign. Donald Trump — as well as the Republican National Committee itself — has seized on the opportunity to hammer Clinton regarding the information that has surfaced since the unveiling of private emails began.
Last week during a campaign stop in Pennsylvania, Trump told the crowd, "Hillary Clinton told her Wall Street donors that you need to have a public position and a private position." He continued the next day in Panama City, criticizing, "The new emails show members of the Clinton team attacking Catholics."
But this is a tactic that should be avoided at all costs, says former GOP candidate Rubio.
In an exclusive with ABC News, Rubio said that he is aware how easily the fortune could be working the other way around. "As our intelligence agencies have said, these leaks are an effort by a foreign government to interfere with our electoral process and I will not indulge it," he said.
Rubio continued firmly, "Further, I want to warn my fellow Republicans who may want to capitalize politically on these leaks: Today it is the Democrats. Tomorrow it could be us."
While countless media outlets and elected officials alike have combed through the treasure trove of leaked correspondences — which have revealed everything from the transcripts of Clinton's private lucrative speeches to the business sector to evidence of presumed collusion between the campaign and the media — Rubio is today warning his colleagues to keep their distance.
"I will not discuss any issue that has become public solely on the basis of Wikileaks," he said. The Clinton campaign has neither confirmed nor denied the veracity of the emails.
—
J.D. Durkin (@jiveDurkey) is an editorial producer and columnist at Mediaite.
Have a tip we should know? tips@mediaite.com