Marco Rubio's Iowa Speech Started Nearly Identically to Obama's 2008 Iowa Speech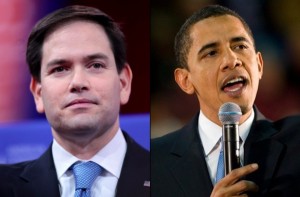 One of the most frequently lobbed accusations against Florida Senator Marco Rubio from the right has been that he is too similar to President Barack Obama; after just a few short years in the Senate, Rubio's relative inexperience has been turned into a talking point against him, and political insiders point to the Obama run in 2008 as a model for Rubio's own ambitions.
Apparently, that's not the only thing they have in common.
Rubio's speech tonight to his gathered group of campaigners and supporters after finishing third — for him, a mark of victory heading into New Hampshire — began eerily similarly to that of then-Senator Obama, who won the the Iowa Caucus for the Democratic party in 2008.
Here is the opening bit of Rubio's speech Monday night:
"So this is the moment they said would never happen. For months, for months they told us we had no chance. For months they told us because we offer too much optimism in a time of anger, we had no chance. For months they told us because we didn't have the right endorsements or the right political connections, we had no chance. They told me that we have no chance because my hair wasn't gray enough and my boots were too high."
In 2008, Obama delivered a speech after defeating John Edwards and Hillary Clinton that began very similarly:
"They said this day would never come. They said our sights were set too high. They said this country was too divided, too disillusioned to ever come together around a common purpose. But on this January night, at this defining moment in history, you have done what the cynics said we couldn't do."
Jon Favreau (not the director of Iron Man) is the Former Director of Speechwriting for President Obama, and he Tweeted out the following shortly following Rubio's speech Monday night.
He could've at least thanked Obama for the opening line https://t.co/meP627U6pv

— Jon Favreau (@jonfavs) February 2, 2016
So you be the judge — did Marco Rubio get thirsty for inspiration and lift the opening of Obama's speech?
Have a tip we should know? tips@mediaite.com